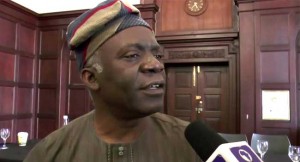 Human rights lawyer, Femi Falana, has appealed to the Governor of Lagos State, Akinwunmi Ambode, not to order the execution of persons sentenced to death in the state.
In a letter to the Governor, a copy of which was sent to Channels Television, Mr Falana referred to a statement credited to the State Attorney-General and Commissioner for Justice, Mr Adeniyi Kazeem, to the effect that Governor Ambode would soon decide the fate of condemned prisoners on death row in the state.
The senior lawyer insisted that death by hanging or firing squad violates the rights to freedom from torture.
He cited a judgement of the State High Court, saying: "The Lagos State High Court held that while a person who commits murder may be sentenced to death, it is illegal and unconstitutional to execute such death sentence by hanging or firing squad, as it will lead to the violation of his fundamental right to freedom from torture guaranteed by the constitution".
He asked Governor Ambode not to sign a death warrant authorising the killing of any condemned prisoner, but instead commute the death sentences to life imprisonment.
"On the basis of the valid and subsisting judgment of the Lagos High Court on the illegality of the execution of the death penalty in Lagos State, we urge Your Excellency not to sign a death warrant authorising the killing of any condemned prisoner either by hanging, firing squad or any other means whatsoever.
"In the circumstance, Your Excellency may wish to commute the death sentences of all condemned prisoners in Lagos State to life imprisonment forthwith," Mr Falana said.