Pope Francis Arrives In Cairo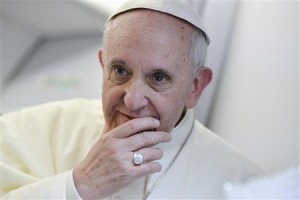 Pope Francis was greeted by Egyptian Prime Minister Sherif Ismail upon his arrival at Cairo airport on Friday, as the pontiff began a two-day visit in which he hopes to mend ties with Islamic religious leaders just as Egypt's ancient Christian community faces unprecedented pressure from Islamic State militants who have threatened to wipe it out.
Francis will meet President Abdel Fattah al-Sisi, Sheikh Ahmed al-Tayeb, the Grand Imam of al-Azhar – the world's most influential seat of Sunni Islamic theology and learning, and Pope Tawadros II – head of the Coptic Orthodox Church who narrowly escaped a church bombing in Alexandria on Palm Sunday.
Francis is expected to give his key address to a conference on religious dialogue at Al-Azhar, part of efforts to improve relations with the 1,000-year-old centre after Egyptian Muslim leaders cut ties in 2011 over what they said were repeated insults against Islam by Pope Benedict.
Ties were restored last year after Tayeb visited the Vatican.
Tayeb, widely considered among the most moderate clerics in Egypt, has condemned Islamic State and its practice of declaring others as apostates and infidels as a pretext for waging violent jihad.
Reuters