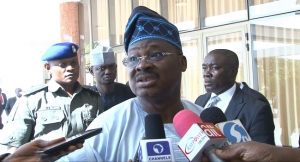 The Oyo State Government has warned that it will not tolerate any individual, group, investor or organisation seeking to sabotage its Internal Generated Revenue (IGR) drive, saying that whoever conspires to defraud the state government would be made to face the full wrath of the law.
Governor Abiola Ajimobi pronounced this warning through his Special Adviser, Solid Minerals, Hon. Mathew Oyedokun, during a meeting with major stakeholders of mining industries to resolve the revenue collection dispute with Quarries in Oyo State at the Conference Hall, Office of the Head of Service, Secretariat, Ibadan.
Governor Ajimobi said that the state government will not allow the activities of any individual or group to hinder the state in its revenue generation drive, cautioning that any form of harassment or intimidation against revenue officers will not be tolerated.
In his remarks, the Senior Special Assistant to the Governor on Security, ACP Gafar Arowolo (rtd) stated that adequate security measures have been put in place to enhance the implementation of revenue payments to government coffers, advising that all major stakeholders in the state should obey the law of the land as anybody found guilty will be prosecuted.
Similarly, the state government has embarked on a wake-up sensitisation call to both private and informal business sectors in the state on the need to pay their taxes regularly and as and when due.
The Special Adviser to Governor Abiola Ajimobi on Internal Generated Revenue, Mr Biyi Oloko, explained that the sensitisation programme was very essential in order to educate and enlighten the people on the importance of regular payment of tax.
Mr Oloko stressed that: "there are many benefits in paying taxes which include provision of infrastructure, good water supply, provision of health care facilities, good education among others. Regular payment of tax would make the Government fulfill its electoral promises to the people."
The recent effort, which took place at Challenge, Dugbe and Bodija markets and environs, gave the government officials from the Board of Internal Revenue, the opportunity to educate members of the community from one shop to another on the need to pay their taxes regularly.