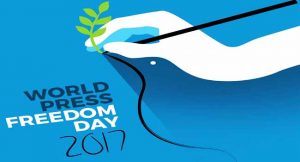 The 2017 World Press Freedom index has placed Nigeria at 122 out of 180 countries; down six places since last year.
The report was put together by non-governmental organization, Reporters Without Borders.
Although the Freedom of Information Act was signed into law on May 28 2011, government institutions and officials regularly deny journalists information, and in some cases threaten them for investigating issues that are in the public interest.
Speaker of the House of Representatives, Honourable Yakubu Dogara, said via a statement signed by his Special Adviser on Media and Public Affairs, that no society can grow without an active press to monitor and report its activities.
He reaffirmed the commitment of the National Assembly to continue to enact laws which will create a conducive environment for journalism to thrive in the country.
National celebrations take place each year to commemorate this day which was first proclaimed by the UN General Assembly in 1993, following a recommendation adopted at the 26th session of UNESCO General Conference in 1991.
This in turn was a response to a call by African journalists who in 1991 produced the landmark Windhoek declaration on media pluralism and independence.