Oyo Govt. Flags Off Entrepreneurship Programme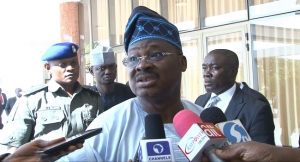 The Oyo State Government has reiterated its commitment to youth development through a sustained effort of providing entrepreneurial and skill acquisition programmes.
The State Commissioner for Youth and Sports, Mr Abayomi Oke, disclosed this at the weekend during the kick-off of the Oyo-Ajumose Business Leadership and Entrepreneurship Youth Programme Training Scheme also known as 'OYO-ABLE'.
The programme was organised by the State Government in conjunction with the Bank of Industry (BOI), Central Bank of Nigeria (CBN) and Africa Leadership Foundation (ALF).
Oke explained that the state has been at the forefront of youth development in the country, emphasising government's readiness to help the youth in the state to build sustainable businesses which will contribute to Nigeria's GDP and in turn, boost the state' economy.
"The entrepreneurship programme is mainly for the youth who have established existing business in any vocation and have registered their businesses with CAC.
"The scheme is to initiate a process of acquiring business management, strategic marketing and financial management skills needed for the survival and growth of small businesses.
"I want to note that Oyo state is filling the gap between skills acquisition (vocational training) and entrepreneurship development (Business Management skills), by offering training support where necessary," he noted.
Oke further explained that the Ministry of Youth and Sports has prepared a more practical and interactive platform for the trainees at the end of the programme, whereby the participants will have access to soft loans needed for expansion of their business.
The Commissioner pointed out that the Oyo State Government, Central Bank of Nigeria with the Africa Leadership Foundation and the Bank of Industry, have developed a collaborative model of mentoring, where mentors meet with the trainees in order to help them build sustainable businesses.
He stressed that: "the goal of mentoring is to give the trainees an opportunity to run their businesses effectively which would contribute to the state's GDP by being employers of labour."
He assured the participants that the state Government under the leadership of Senator Abiola Ajimobi will refund the training fee of 5000 Naira which had been paid by the trainees.
While appreciating the Oyo State Government, the project director CBN Entrepreneurship Development, South-West, Ibadan, Dr Olumide Ajayi, said that a monitoring team comprising the Corporate Affairs Commission, Federal Inland Revenue Service and other regulatory agencies, will monitor the business activities of the beneficiaries so as to ensure the maintenance of standard procedures for their businesses.