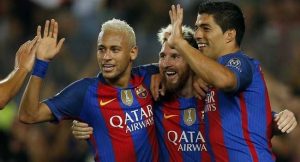 Barcelona hosts fifth-placed Villarreal at Camp Nou on Saturday, in a match both sides need to win.
Coach Luis Enrique on Friday praised the hard work of Villarreal during the season and said it is obvious that his team needs to win all remaining matches in order to keep their hopes to win La Liga.
"When the end of the championship approaches the pressure is divided. It is obvious that the only condition we have to meet to have any option is to win all the matches and that's what we are going to try to do. From here on, it will depend on what we do and later what our rivals do," Enrique said in a press conference on Friday.
Villarreal, known as "The Yellow Submarine", have won five of their last six, including an away victory over Atletico Madrid, as they make a late bid for the fourth and the final Champions League berth with Sevilla stumbling.
And Enrique believes they would be tough opponents to overcome.
"I would look at what they do as a team. They are perfectly organised with the ball, capable of generating danger in the associative game and at the defensive level they defend very well, folded in their own side, they generate difficulties and create offensive transitions," he said.
"They are a rival that by looking at their numbers and the way they play you can see that they are a very hard working team and one of the most difficult to take on in La Liga."
Barca's bitter rivals Real Madrid are aiming to remain in pole position for a first La Liga title in five years when they travel to relegated Granada on Saturday night.