26 Die In Bus Collision On Lagos-Ibadan Expressway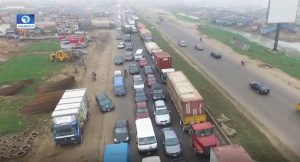 Not less than 26 people were burnt to death in an accident that occurred at the Ibadan end of the Lagos-Ibadan Expressway involving two commercial buses.
Eyewitnesses said the fatal accident occurred around 6:30am with both buses bursting into flames on impact.
The two 18-seater commercial buses involved had a head on collision while trying to overtake from their lanes at point a point where the road construction company handling ongoing construction on the road had diverted traffic.
Officials of the Federal Road Safety Corp, who were the first responders at the scene led by the Oluyole Unit Commander, Mrs Titilayo Olayiwola, confirmed the crash and disclosed that the corpses have been moved to Adeoyo Hospital, while the survivors were taken to University College Hospital and Ibadan Central Hospital.
The Public Relations Officer of UCH, Mr Deji Bobade, confirmed to Channels TV that one of the victims was brought to the hospital for treatment around 7am this morning.
Furthermore, the Public Relations Officer of the Oyo State Police Command, Adekunle Ajisebutu, confirmed that 26 people were burnt to death before any intervention arrived.
He said 11 people including children were injured in the crash and were being treated in the hospitals.