[UPDATED] 82 Chibok Girls Freed
More than three years after they were abducted from their school by Boko Haram Insurgents, about 82 more of the over 276 Chibok schoolgirls taken have reportedly regained their freedom.
This was revealed in a statement signed by the Senior Special Assistant to the President, Garba Shehu.
Meanwhile, sources told Channels Television that the girls are on their way to Maiduguri, the Borno State capital.
It was gathered that negotiations for the release of the girls had been on since the past two days.
Meanwhile, a former Minister of Eductation, Dr. Obiageli Ezekwesili, who is also the Co-convener of the Bring Back Our Girls Group, has called on the government to issue a statement on the matter.
The BBOG said in a statement by its spokesperson, Sesugh Akume, that it had high hopes about the news.
"Our hopes and expectations are high as we look forward to this news being true and confirmed," it said.
On its part, Amnesty International called for the protection of the girls' privacy, in a statement by its Media Manager Isa Sanusi.
The statement quoted Amnesty International's Nigeria Director, Osai Ojigho, as saying, "The release of 82 of the kidnapped Chibok schoolgirls by the armed group Boko Haram is a big relief.
"However, it is vital now that they receive adequate physical and psychosocial counselling and support so that they can fully reintegrate in their communities.
"The government should also respect their privacy and ensure that the released girls are reunited with their families and not kept in lengthy detention and security screening which can only add to their suffering and plight."
The latest development would mark the biggest progress in the rescue of the schoolgirls whose abduction shocked the world.
It brings to 103, the number of girls so far released by the terrorists, besides those that escaped from the militants on their own.
After months of negotiation with the insurgents, the Muhammadu Buhari Administration secured the release of 21 of the girls in October 2016. Earlier that year, one of the girls, Amina Ali, had been found.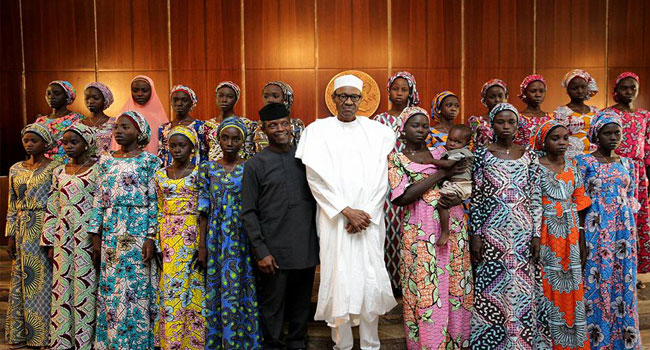 The girls were abducted by Boko Haram insurgents from the Government Secondary School in Chibok, Borno State in April 2014.
More than 50 of them were reported to have escaped from captivity in the first few months.
But after that, and despite global outrage, the Nigerian military could not immediately free them, especially with Boko Haram leader Abubakar Shekau releasing videos taunting the government.