Spanish Police Seizes Over Two Tons Of Cocaine From Ship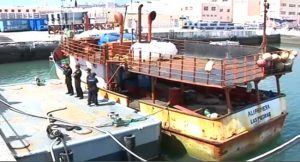 Spanish police seized more than two tons of cocaine from a ship with a Venezuelan flag in the Atlantic Ocean and arrested the seven crew members, Spain's interior ministry said on Monday.
The operation, carried out alongside the U.S. Drug Enforcement Administration, the UK's National Crime Agency and Portuguese police, took place earlier this month, on May 4.
The seven people on board were Venezuelan nationals, the ministry said, adding that a gun had also been seized alongside 2,400 kg of cocaine. The vessel, a small, rusted fishing boat according to images distributed by police, has since been towed to Spain's Canary Islands.
Separately, a shipment of 5.5 tons of cocaine destined for Spain was intercepted off the coast of Ecuador, and 24 people were arrested in that operation, the interior ministry also said on Monday.
"Today is an important day, a day of congratulations for the national police along with Spanish Customs who managed to detain a Venezuelan fishing ship with 2,400 kilograms of cocaine. I just want to mark the important job that the Spanish police has done, in this case with a previous labour of information in coordination with the U.S.," Spanish Government's Canary Islands Delegate, Mercedes Roldos, said.
"DEA (Drug Enforcement Administration), with the Portuguese police and the British police, which have made the successful arrest of this fishing ship from Venezuela, the detention of seven people and the seizure of a very significant amount of cocaine."