U.S., Saudi Sign Deals Worth $110bn As Trump Visits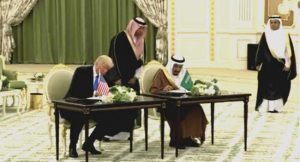 The United States on Saturday announced military deals worth nearly $110 billion, during a visit by President Donald Trump to Saudi Arabia.
A White House official said Trump and Secretary of State Rex Tillerson would attend the signing of a memorandum of intent on a package of defence equipment and services to bolster the security of the kingdom and the Gulf region in the face of Iranian threats.
National oil firm Saudi Aramco said it signed $50 billion of agreements with U.S. firms. Energy minister Khalid al-Falih said deals involving all companies totalled over $200 billion, many of them designed to produce things in Saudi Arabia that had previously been imported.
Business leaders on both sides were keen to demonstrate their talks had been a success, so there was an element of showmanship in the huge numbers. Some deals had been announced previously; others were memorandums of understanding that would require further negotiations to materialise.
The deals illustrated Saudi Arabia's hunger for foreign capital and technology as it tries to reduce its dependence on oil exports. Low oil prices in the past couple of years have slowed the economy to a crawl and saddled the government with a huge budget deficit.