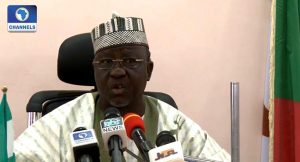 The Nasarawa State Governor, Tanko Al-Makura, says that social media has become a vehicle of commotion, anarchy and instigation hold sway.
He charged journalists in the country on professionalism in order to curb excesses of social media reports.
He made this known when he received members of the Nasarawa State chapter of Nigeria Union Of Journalist (NUJ) at the Government House in Lafia, the state capital.
The governor opined that activities of the social media over the years have triggered confusions, lawlessness and provocation.
"What is happening is that the social media is fast becoming another challenge to the mainstream journalism and to some extent when you disseminate your information with the best of ethics and professionalism such delivery is endangered by the hitch hiking of information dissemination by all kinds of people within the web.
"So I think for this, the reason you have to add value to the system and at the same time you should not be aloof with happens in the social media, you could also contribute to the social media to ensure that the message gets to the right destination and the true and rightful message.
"You as mainstream journalists must find a way of domesticating and taming the excesses of the social media. This is when the society would benefit from the explosion and sophistication in the media circle".