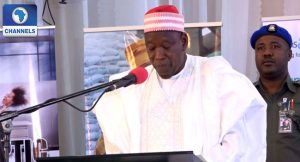 The Kano State Government has signed ten Memorandums of Understanding (MoU) with various companies and investors for some major development projects across the state.
At the closing ceremony of the second edition of the State's Economic Summit and Investments, Governor Abdullahi Ganduje said one of the MoU was targetted at the construction of the N146 billion Kano economic city by Brain and Hammers Nigeria Limited.
The government of Kano State had within the last one week engaged investors and other relevant stakeholders in seeking a solution to the state's dwindling economy.
After two days of negotiations and deliberations, economists, investors, and financial experts came up with suggestions that favoured the economic transformation of the Nigeria's second largest commercial city of Kano.
The signing of the 10 agreements is expected to boost the economy and transform Kano into a mega city, a feat Governor Ganduje hopes to achieve in the next two years.
"We want to have a mega city where our economic structures will work in providing jobs to our youth. So I called on these investors to know that we are a serious government and we will not tolerate bureaucracy. That is why we set up an investments promotion agency to report directly to my office in the event of obstacles or sabotage."
Governor Ganduje, who assured participants that his commitment to implementing the MoU will remain unchanged, warned contractors and investors against failure to meet expectations as well as the set target.
He said, "The investments and MoU we signed are very important indicators to the diversification of our IGR, and we hope to ensure that money due to state government coffers are paid to state government account. This will, in turn, help us come up with more development projects for our people that
"This will, in turn, help us come up with more development projects for our people. That is why we have also given agriculture a meaningful priority because we believe, through agriculture, we can revive our rural economy."