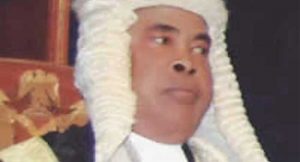 The trial of Justice Sylvester Ngwuta over alleged corruption has been adjourned till July 3 and 5 2017.
There was confusion during the trial over the amount tendered as alleged corruption proceeds recovered from Justice Sylvester Ngwuta's house.
The trial Judge, Justice John Tsoho told parties that the prosecution had informed the court that N35, 358,849 million is the amount found at Justice Ngwuta's house.
He added that the told amount found in one of the boxes found in Justice Ngwuta's house which was not the correct amount.
He said this amount N35,358,000 is contrary to the figure of N35,358,849 that was earlier given.
When the trial judge asked the prosecutor why the figures were different, the prosecutor said she was made to understand that the DSS used a counting machine to count the money but was not able to explain how the difference came about.
But the officer of the Department of State Services (DSS) John Utazi when cross-examined insisted that there was no difference between the money tendered and the one recovered from Justice Ngwuta's house.
However, he told the court that he was not present when the money was counted in the court as ordered by the judge.
An attempt by the defence council to tender the report on the figure of the recount as the evidence was rejected by the prosecution council.