Fayose Asks President Buhari To Resign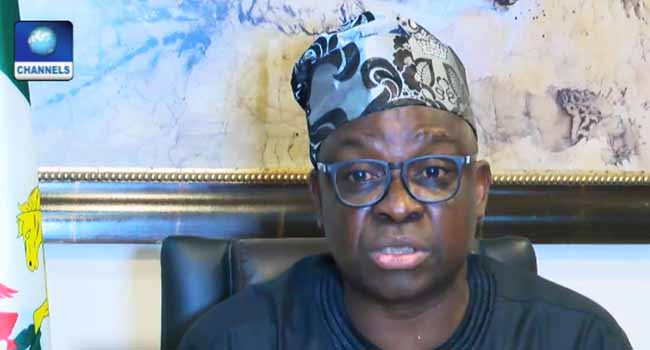 The Governor of Ekiti State and Chairman of the Peoples Democratic Party (PDP) Governors Forum, Mr Ayodele Fayose says the All Progressives Congress leadership of President Muhammadu Buhari has performed below expectation.
The governor at a press conference which held on Tuesday in Lagos explained that the handling of the economy by the Buhari government is unacceptable and therefore asked that the President resigns.
"Two years of Buhari's change agenda or Buhari's Presidency is what I describe as a misadventure for Nigerians – recession, downturn and economic shrinkage, resulting in a badly devalued currency, the Naira.
"We went as far as 500 and something but thank God it is getting better. Nigeria is in the worst-ever debt profile; our debt profile is second to none – we borrow on daily basis. To worsen matters, they take this money from source against the Supreme Court judgement that says all money must accrue to the federation consolidated account to be shared by all tiers of government. There is no way you can be taking bonds without committing the money from source abroad.
"This is regrettable as the Federal Government continues to cheat on the states and the local government. I have gone to court in this respect and I have asked them to make public the documents for which they have used to borrow money or which they are still using to borrow money.
"While praying for our president to recover very quickly, why is he finding it difficult to be morally upright and resign, knowing the hardship his redundancy is causing the economy and the masses," Fayose questioned.