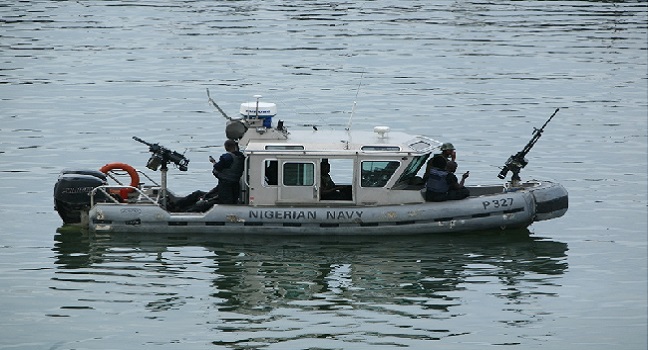 Officers of the Operation Delta Safe say they have ambushed a gang of sea criminals along KM-45 Awoba Waterways in Rivers State.
This was disclosed in a statement by the command on Wednesday.
"During the ambush operation, four robbers met their Waterloo. Items recovered include; two AK-47 rifles, three AK-47 magazines, 22 ammunitions and one speed boat mounted with one 200 Horse-Power engine."
Also, the statement revealed that the troops destroyed a hide out of some pirates along the Bayelsa waterways.
"Troops patrolling along Bayelsa waterways acting on information, raided a pirates hideout along Forupa-Lobia waterways.
"However, sea pirates on sighting troops in advance fled the hideout, and left behind 3× fiber boats and one 75 Horse-Power engine. The hideout was subsequently destroyed instantly while the troops continue with their patrols".
"In view of this, the Commander Operation Delta Safe, Rear Admiral Apochi Suleiman wishes to commend law abiding citizens for their support by providing timely and useful information to troops. He appealed for more cooperation from inhabitants of the Joint Operation Area.
"He assured the communities, oil companies and other stakeholders of Operation Delta Safe to resolve to protect oil and gas infrastructure, prevent and deter Crude oil theft, sea robbery, pipeline vandalism and other forms of criminalities in the region that could impact negatively on the economy of the nation."