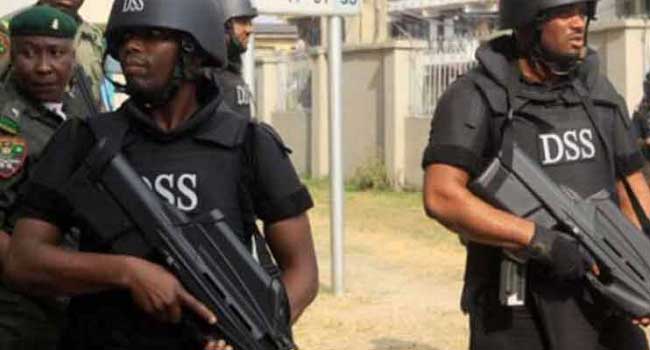 The Department of State Services (DSS) has listed some of the successes recorded during its operations in 2017 with support from sister agencies.
The agency in a statement signed by a DSS spokesperson, Tony Opuiyo on Monday noted that the capturing of notorious kidnap kingpin, Terwase Akwaza, among other high profile terrorists in the country, was made possible through its tactical operations.
Terwase Akwaza
"The hunt for the notorious kidnap kingpin, Terwase Akwaza (aka Ghana), led to the arrest of some of his close associates. For instance, on June 9, 2017, the trio of Dondo Orsaa, Terhile Mbaloha and Teryima Ihiambe (aka Clark) were apprehended at various locations within Katsina-Ala LGA, Benue State for their sustenance of kidnap operations across Benue and Taraba States.
"During the operation, one AK-47 rifle, a 9mm Pistol, Ammunition and complete set of Army uniform were recovered from ORSAA. Relatedly, on 10thApril, 2017, one Terna Sapko, an informant to the Akwaza syndicate was arrested around the Army Barracks in Takum, Taraba State.
Lance Corporal Samaila Madu-Led Kidnap Gang
According to the statement, the Service on June 9, 2017 in Aviele, Etsako West LGA of Edo State arrested 15 kidnap suspects led by Lance Corporal Samaila MADU, a dismissed soldier.
Another member of the gang, Ibrahim Topa sustained gunshot injury on his left leg while trying to escape. Similarly, in Ebonyi State, one Chinonso Onwe (a.k.a Abino Flash) was arrested at Izhia Community, Ohaukwu LGA on June 1, 2017, by the Service in collaboration with the Community's Security Council for Armed Robbery and Kidnapping. He was identified to be a member of the Black Axe confraternity.
During his arrest, two locally made pistols and a pair of Nigerian Army fatigue were among items recovered from him.
Falgore Forest Criminals
Prior to those arrests, the Service on May 11, 2017, in collaboration with the Military, at the Kano State stretch of the Falgore Forest, arrested five suspected Kidnappers/Cattle rustlers namely – Sani HASSAN (aka Ashana); Suleiman Abdullahi (aka Dogo Sule); Bashiru Abdullahi (aka Lamo); Amadu Abdullahi (aka Mallam); and Auwalu Sanda (aka Maitaru).
Alesa Abdulkarim
Also, on May 17, 2017, along the Port Harcourt Refining Company (PHRC) road, Rivers State, the Service arrested one Alesa Abdulkarim, for his alleged involvement in the kidnap of one Mayowa Akinkuade.
Similarly, on May, 19 at Achala Autonomous Community, Obowo LGA, Imo State, the Service arrested one Chinyere Onyeanulum for his connection with the kidnap of one Jennifer Chizitere Anuruo.
Aminu Aliyu
On May 28, 2017, the agency also arrested Aminu Aliyu in Sokoto State for the kidnap of Ifeanyi Amos (a Nigerian Army Captain) on May 27, 2017 along the Jaji-Kaduna Highway.
Yusuf Aliyu
On June 7, 2017, Yusuf Aliyu was arrested at Ungwar Danmani, Rigasa, Kaduna-North LGA, for his suspected membership of the syndicate terrorizing users of the Abuja-Kaduna Road.
Isah Baki-led Gang
Again, on June 9, 2017, at Dankande village, Rigachiku, Igabi LGA, Kaduna State, the Service confronted a notorious kidnap gang. Though Isah BAKI, leader of the gang escaped with gunshot wounds, three of his members namely: Hassan Abdullahi (22 years), Abubakar Abdullahi (27 years) and Suleiman Abdullahi (30 years) were arrested.
On the same day, along the Nnamdi Azikiwe Express Road in Kaduna, the Service engaged another dangerous kidnap group and arrested two of its members: Yusuf Sani and Yusuf Adamu. Two AK-47 rifles and nine live ammunitions were recovered from the suspects who are currently being interrogated.
Abdulhamid Isiaka
"Committed to the effort aimed at achieving a terror free country, the Service sustained its counter terrorism/insurgency operations. To this effect, it continued the degrading of the capabilities of these terrorist elements. Consequently, the Service in a joint operation with the Military on 9th June, 2017, arrested Abdulhamid Isiaka (aka SMALL) and Habib AUDU, at Obajana and Ibilo in Kogi and Edo States respectively.
"It is instructive to note that ISIAKA is a Libyan returnee, who had travelled to that country alongside Abu Uwais, a most wanted terrorist. While in Libya, Isiaka had undergone terrorism training and also acquired a cache of weapons in preparation for attacks in Kogi and Kaduna States.
"He, however, became notorious and specialized in gun-running, kidnapping, armed robbery and terrorist acts. Isiaka has made useful statements to facilitate further investigations and actions against the terrorist and kidnap networks on the Abuja-Okene and the Kaduna-Abuja axis," the statement added.