Peru Shamans Perform Ritual For World Peace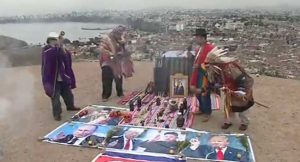 Peruvian shamans performed a ritual for world peace at the feet of the "Christ of the Pacific" monument on the Morro Solar hill in southern Lima on Monday.
Beating percussion instruments and chanting over pictures of U.S. President Donald Trump and North Korean leader Kim Jong Un, the medicine men sang and danced on a sandy Lima beach.
The United States has struggled to slow North Korea's nuclear and missile programs, which have become a security priority given Pyongyang's vow to develop a nuclear-tipped missile capable of hitting the U.S. mainland.
North Korea "fully rejects" the latest U.N sanctions against its citizens and entities as a "hostile act" and will continue its nuclear weapons development without a delay, its foreign ministry spokesman said last week.
One of the shamans, Juan Osco, said they were asking for peace between the United States and North Korea.
In Latin America, Osco said they prayed for peace in Venezuela, which has been embroiled in a political and economic crisis.
Demanding that delayed elections be held and angry at shortages of food and medicine, thousands of mostly peaceful protesters have been on the streets since April. Smaller groups throwing rocks and petrol bombs have been met with tear gas grenades, water cannons and other riot-control methods. Dozens of people have been killed during the protests.
During an end of the year ritual, the shamans had predicted that 2017 would be a turbulent year.
The prayers and predictions of Peru's shamans have become a widely noted tradition among Peruvians.