I knew Saraki's Trial Will Be An Exercise In Futility – Fayose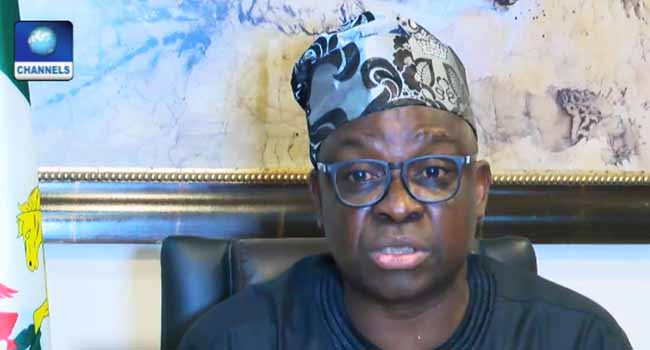 The Governor of Ekiti State, Mr Ayodele Fayose, says he knew the trial of Senate President, Dr Bukola Saraki, at the Code of Conduct Tribunal will amount to nothing.
Governor Fayose said this on Wednesday after the CCT dismissed all the 18 charges bordering on false assets declaration against the Senate President.
"You will recall that (in) my predictions for 2016, even before Bukola Saraki was charged, I said Bukola Saraki will be tried and it will end up in nothing. It will be like an exercise in futility because this government is known for vendetta; they have nothing to offer," Governor Fayose said.
The governor took a swipe at the anti-corruption war of the Federal Government by adding, "If you see the trend, they lose all the cases. At the end of the day, they come back and blame the judiciary because what you start with vendetta will end up in the midst of nowhere."
Earlier, the governor had said in a statement by his Special Assistant on Public Communications and New Media, Mr Lere Olayinka, that the verdict of the CCT meant victory for Nigerians over tyranny.
The governor, who accused the All Progressives Congress-led Federal Government of trying to suppress political foes, insisted it was not serious about fighting corruption.
"I have maintained that the government of President (Muhammadu) Buhari is not fighting any corruption. Rather, what is being done is hiding under anti-corruption fight to persecute, humiliate, harass and malign perceived political enemies," he was quoted as saying.
According to him, the trend is for the government to make a lot of noise in the media when levelling allegations against people and failing to prove the claims in court.
He said, "Look at all the noise they made when they started Senator Saraki's case, it was as if he will be sent to jail the following week. But when it was time for them to prove their allegations, they could not.
"Even the case of the former National Security Adviser (NSA), Col. Sambo Dasuki (retd), that they said stole $2.1 billion arms money and that destructive weapons capable of disrupting the peace of any city in Nigeria were found in his possession, why are they the ones seeking secret trial while Dasuki that they accused is insisting on open trial?"
He urged the Senate President to see the victory as a challenge to him and the entire members of the National Assembly to always stand up to defend the rule of law and fundamental rights of Nigerians.