National Assembly Won't Be A Rubber Stamp, Lawmakers Reply Osinbajo
The National Assembly has said its Constitutional powers are unambiguous with regards to appropriation and warned the Executive that it will not be a rubber stamp for it.
In separate plenary sessions, the Senate and House of Representatives considered points of privilege by lawmakers who queried alleged statements by Acting President Yemi Osinbajo, that the National Assembly has no powers to introduce new projects to the budget before passing it.
While Senate President Bukola Saraki said the Senate would continue to defend the Constitution, the Speaker Yakubu Dogara said the powers of the purse are with the legislature and everything will be done to protect the independence of the legislature.
Acting President Yemi Osinbajo had on Monday after signing the 2017 budget blamed the delay in signing the document on changes made by the National Assembly.
"The final presentation and the signing of the budget has been considerably delayed. This was largely due to disagreements we had about the changes introduced to our 2017 Budget proposals by the National Assembly," he had said.
His comments irked several of the lawmakers and during Thursday's plenary, they voiced their annoyance after Deputy Senate Leader, Bala Ibn'Nallah, raised a point of order on it.
In the House of Representatives, the same matter was raised by a member, Lawal Abubakar (APC, Adamawa State), who said his privilege had been breached by the alleged statement by the vice president.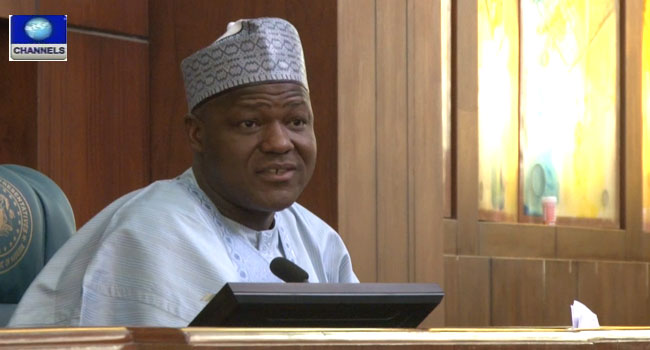 Reacting, the Speaker who said he wasn't sure the Acting President actually made the comments credited to him, insisted that the National Assembly had powers to introduce new projects to the budget and remove projects from it.
He added, "A declaration as to which of the arms (of government) has the power and rights, in as much as it is related to the interpretation of the law, is the function of the judiciary and not of the executive."
The Speaker also said the Appropriation Act is a law enacted by the National Assembly and public officers including the President and his ministers have sworn to uphold the Constitution.
Consequently, he said failure or refusal to implement the budget amounts to the violation of the Constitution and had consequences.