Real Madrid Not Contemplating Ronaldo's Departure – Florentino Perez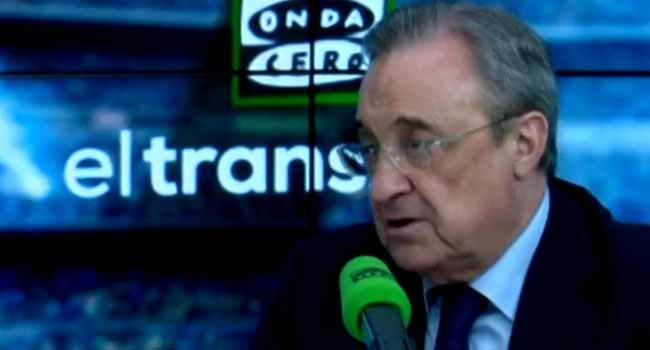 Real Madrid president, Florentino Perez, on Monday, said the club doesn't contemplate Cristiano Ronaldo leaving the club and said he has not spoken to the Portuguese player yet.
Perez said a very strange thing would need to happen for Cristiano to leave 'Los Blancos', he denied any offer for the player and refused to make conclusions before speaking to him.
The president defended the Portuguese star and said that he has heard Ronaldo is angry because of the media treatment concerning his taxation case. Although Perez said everyone, including Ronaldo, must obey their tax obligations.
Spanish prosecutors have filed a lawsuit against the player accusing him of defrauding tax authorities of €14.7 million (12.87 million pounds) by hiding his image rights income between 2011 and 2014. Ronaldo has denied any wrongdoing.
On Tuesday, June 20, Spanish online newspaper El Confidencial reported that Ronaldo will testify in court on the tax allegations on July 31.
Ronaldo is with Portugal at the Confederations Cup in Russia and has not said anything about his future since the A Bola story was published, which said Ronaldo wants to leave Real Madrid.
Cristiano is the latest in a long line of soccer players in Spain among them Barcelona's Lionel Messi and Neymar to be caught up in cases over tax or transfers.
The 32-year-old signed a new contract with Real until 2021 last November and has a release clause of €1 billion ($1.11 billion).
Read Also: Spanish Prosecutors Accuse Mourinho of €3.3m Tax Fraud