Self-Taught Mechanic Wants To Build Fuel-Free Trucks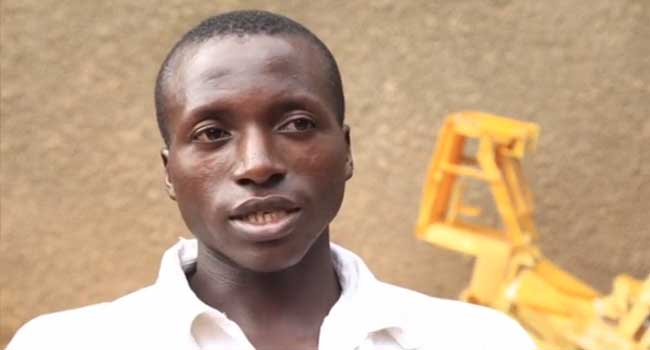 Julius Mugabi used pieces of plastic from old water cans to build a wheel loader at his home in Mukono, Uganda.
He says he wants to develop a truck that runs on batteries and not fuel that can make it cheaper and more accessible.
The 21-year-old dropped out of primary school due to lack of school fees and has no formal training in engineering.
Mugabi says he used to fix radios and other broken electrical equipment at home when he was growing up. Then he taught himself the basics of mechanics while working at a garage, from studying how cars operate.
"I want to change a few systems, for example, the first man to build an airplane made air transport possible. As for me, I was born in the era where cars are driven using fuel but I also want to build something unique that will benefit the ordinary person. I want to create a vehicle that doesn't consume fuel in that when someone buys it, he doesn't have to keep recharging it because it will charge itself during the drive or operation. This is intended to help people in far rural areas where there are no fuel stations or even electricity," said Mugabi.
It took him two years to complete his latest assembly, which he says is powered by rechargeable batteries.
Mugabi has also built an imitation of a helicopter and trailer. He hopes to come up with more practical inventions.
"There was a time I really sat down and thought about not wasting time building this tractor only for it to fail in the future. I thought I should first replace all pressure systems with electronic systems, but when these electronic pumps worked I knew I was done with the first step. I then had to work out the number of joints I needed. Building the body was the easy part but I knew it would be a challenge adding the forks and even end up abandoning the project for a while. I then started by building the differential and ensured it is strong enough. I calculated and found that the forks would be able to lift 10 kilogrammes," he said.
Mugabi works as a casual labourer at a construction site to make ends meet and to support his hobby of mechanics which he hopes can turn into a career with the proper training.
He has a keen interest in farming machinery, especially making it more accessible to poor rural communities.
"I want to provide a solution that will help farmers not rely on seasons. This technology can make tractors for different purposes. Some of my next innovations will be water sprinkler tractors so that farmers won't have to wait for the rainy seasons, they can start cultivating anytime they feel like," he said.
Mugabi has displayed his work at some local exhibitions but says he is yet to find developers who are willing to invest in his work.
He will be travelling around Rwanda for three months sharing his ideas with students about making alternative moving parts for vehicles.
Reuters