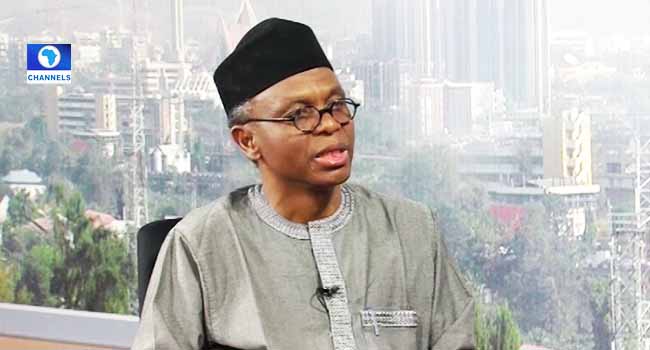 The Kaduna State Governor, El-Rufai has described recent calls for the restructuring of Nigeria as political opportunism and irresponsibility.
El-Rufai, while speaking on Channels TV's Sunrise Daily said President Buhari's administration has done far more in practical terms than past administrations and that many of those calling for a restructuring rather see it as a means of opportunism.
He stated that some of the practical steps taken towards restructuring included the fact that state governors are now more than ever, involved in economic policy making at the national level.
According to him, things that have always been hidden from state governments are now much more open as they are now more involved in investigations of finances of the excess crude account, among other things.
"We meet every month under the auspice of the National Economic Council and working together with the Federal Government we chart directions of economic policy and that is part of shifting the federal- state balance.
"A lot of the talk about political restructuring is political opportunism and irresponsibility in my opinion
"It is popular and people that have presidential aspirations think there is a platform upon which they will exploit this. As I said, if you look at the APC manifesto, all the elements to divulge power to the state to change the balance in the federation are there and we are committed to that as a party.
"The National Chairman of our party will restate that commitment and we are discussing it and as I said President Buhari and Osinbajo's government has taken very concrete steps rather than rhetoric to actually move in that direction and we are going to move in that direction but we do not believe that the basis for it is rhetoric and opportunism, we do not believe that the 2014 CONFAB report is a sensible basis to even begin.
"We all know the circumstances in which the so-called CONFAB was put together, we all know the composition, how lopsided it was, how important stakeholders were not taken to account, how even the composition and numbers do not reflect the demographics and the diversity of this country and we took a position as a party not to participate but to encourage our state governors to be there at the table."