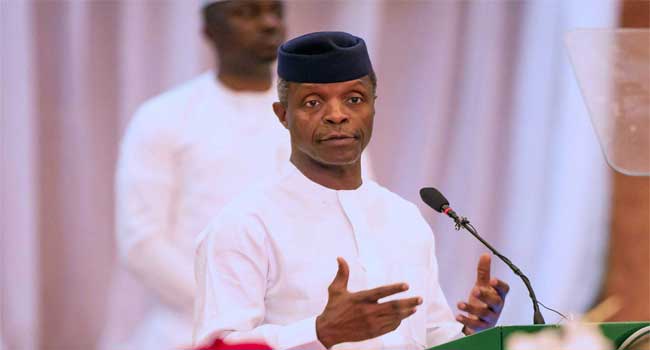 Acting President Yemi Osinbajo has travelled to London to meet with President Muhammadu Buhari who has been in the United Kingdom for over 60 days on a medical vacation.
Professor Osinbajo was said to have left late on Tuesday afternoon and is expected to return to Nigeria immediately after the meeting with the President.
The Senior Special Assistant to the Acting President on Media and Publicity, Mr Laolu Akande, confirmed the visit in a tweet around 7:30 pm.
AgP Osinbajo meeting with President Buhari in London today, and returning to Abuja immediately afterwards.

— Laolu Akande (@akandeoj) July 11, 2017
AgP @ProfOsinbajo meeting with President @MBuhari in London today, and returning to Abuja immediately afterwards.

— Presidency Nigeria (@NGRPresident) July 11, 2017
President Buhari had travelled to the United Kingdom for medical attention for the second time this year on May 7.
He spent 49 days in London during his first trip, returning on March 10 after which he revealed that he had never been so sick.
Details about Acting President Osinbajo's visit are sketchy, but no picture has emerged of the President meeting with anyone like he did during his first trip except for an audio message recorded in Hausa language wishing Nigerians a happy Eid-el-Fitr celebration.
The news of Professor Osinbajo's visit to London comes a day after the wife of the President, Aisha, posted a cryptic message, which went viral, on Facebook.
The Presidency has maintained, amid concerns about the President's health and criticism over the way it has been handled, that he is in safe hands and recovering fast.
Early last month, On June 6, the wife of the President, had returned to Nigeria with the news that the President was recuperating fast.
Mrs Buhari, who conveyed the appreciation of the President to Nigerians for their prayers, called on Nigerians to continue to be strong in the face of challenges and to support the Federal Government in implementing the agenda for which they were elected.
She also expressed the President's appreciation to the Acting President for his loyalty.
Nine days later, on June 15, the Minister of Information and Culture, Mr Lai Mohammed, had described Mrs Buhari's comments about the President's health as "the most authentic news" available at the time.