It has been an amazing transfer window ahead of the 2017/18 season, as various European clubs signed a quite number of players to boost their fortunes.
Here, Channels Television has compiled a list of 10 major deals in "no order of importance,"  involving some distinguished footballers.
Wayne Rooney – Manchester United To Everton (Free Transfer)
On Sunday, July 2017 Manchester United and former England captain, Wayne Rooney, rejoined his boyhood favourites Everton on a two-year deal.
Rooney, who also wears the number 10 shirt at Everton, has played more than 550 games for Manchester United, scoring 253 goals to become their all-time leading scorer.
At United, he won the Champions League, five English Premier League titles and the FA Cup. He was also the Footballer of the Year in 2010.
John Terry – Chelsea To Aston Villa (Free Transfer)
The former Chelsea and England captain John Terry signed a one-year contract with Championship club Aston Villa on a free transfer.
He was confirmed as the club's captain for the 2017/18 season 12 days after he joined the club.
Terry led Chelsea to five Premier League victories as well as four FA Cups, three League Cups, one UEFA Europa League and one UEFA Champions League title triumphs since 2004.
He is one of five players to have made over 500 appearances for Chelsea and is also the club's all-time highest scoring defender.
Romelu Lukaku – Everton To Manchester United (Undisclosed Fee)
Lukaku penned a five-year contract with Manchester United with the option of a further year earlier in July.
Although his transfer fee was officially undisclosed, it was reported to be worth an initial £75 million, plus £15 million in add-ons.
Alexandre Lacazette – Lyon To Arsenal (€53 million)
Lacazette signed a five-year deal for Arsenal, a deal that surpassed the €50m which the Gunners paid to sign Germany's Mesut Ozil from Real Madrid in 2013.
Lacazette previously played as a winger for Lyon, before becoming a striker. In his overall style of play, the 26-year-old has been compared to former Arsenal striker Lan Wright by fellow Frenchman Gerard Houllier.
Kyle Walker – Tottenham Hotspur To Manchester City (£50 million)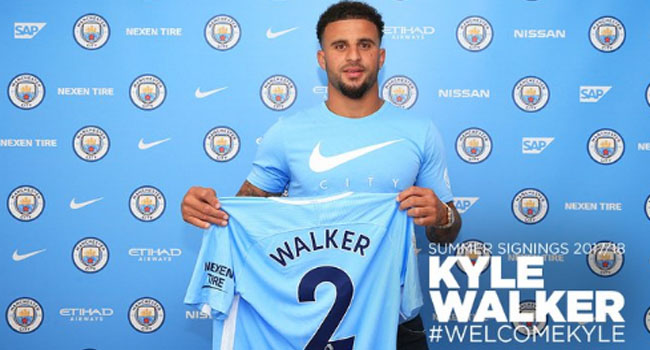 Walker signed a five-year deal with Manchester City, one of his former club Tottenham rivals.
The fee for the 27-year-old made him the world's joint most expensive defender along with David Luiz who left Chelsea for PSG in 2014.
Bonucci – Juventus To AC Milan (€42 Million)
Leonardo Bonucci left Juventus for AC Milan after his long-term relationship with Coach Massimiliano Allegri reportedly deteriorated.
The 30-year-old centre-back was said to have joined Juve's rivals for €42 million move on a five-year contract.
Tiemoue Bakayoko – Monaco To Chelsea (£40 million)
On 15 July 2017, Bakayoko joined English side Chelsea on a five-year deal for a fee around the margin of £40 million.
Bakayoko who plays as a defensive midfielder, breaking up attacks and making driving forward runs, is Chelsea's second major summer signing after they brought in defender Antonio Rudiger from Roma.
Mohamed Salah – Roma To Liverpool (£36.9 million)
Salah, 25, has been a long-term target, with Liverpool missing out on his signature three years ago when he joined Chelsea before embarking on an underwhelming spell in the Premier League.
The fee was a club record, eclipsing the £35m spent on Andy Carroll in 2011.
Pepe – Real Madrid To Besiktas (Free Transfer)
Pepe proceeded to Besiktas on a free transfer on July 4 after playing with European Champions Real Madrid for 10 years.
He is expected to earn €9.5 million in total during the two-year contract, plus €4,000 for each match.
The 34-year-old defender joined Real from Porto in 2007 for 30 million euros, winning the La Liga title in his first campaign.
James Rodriguez – Real Madrid To Bayern Munich (Loan)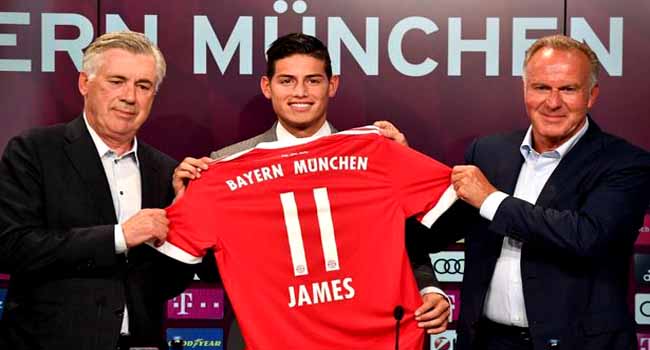 On 11 July 2017, it was announced that James was loaned to German side Bayern Munich on a two-year long deal.
The 25-year-old Colombia international made 22 La Liga appearances for the European and Spanish champions last season, scoring eight goals and featured six times in the Champions League.
James is a versatile footballer who can play in several positions across the midfield or front line.