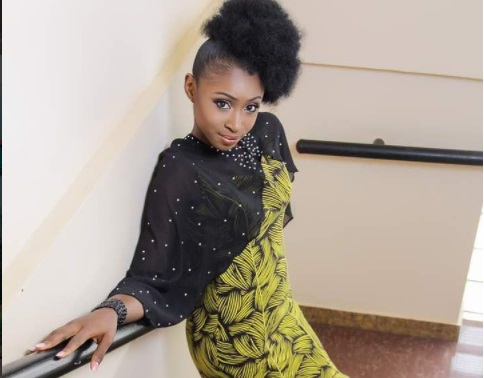 Chidinma Okeke was just another regular girl with big dreams until October 2015 when she won the Miss Anambra beauty pageant and crossed into the limelight.
Chidinma experienced life from a new perspective under the pressure of being crowned a beauty queen.
Speaking in an exclusive interview with Entertainment News on Channels Television Chidinma explained how being a beauty queen changed her life.
"It changed me a lot in every area of my life, I became up and doing before the all contest I just loved being in my own shell but throughout my year as a beauty queen I had to learn how to work hard to get to where I want to be, I learned the world is not a bed of roses and that if you want to make an impact you have to work hard."
During her reign as a beauty queen Chidinma combined her schooling with realising the role of Miss Anambra, she organised a couple of charity events while she was a student.
"It was not easy at all but with the help of my friends I was able to combine the two," she said.
Towards the end of her reign as a queen, the unimaginable happened when a purported sex tape she had participated in was released and she became a subject of heavy criticism forcing the pageant organisers to declare her dethroned.
However, she put the incident behind her and continued to forge a career for herself in entertainment with the release of her debut track titled 'Friends'.
"I was able to heal with the help of God and my family. I talked to myself because I know I had so much to give out there. I was surrounded with people that were encouraging me to move on with what I wanted to do and not give up on my dreams and I took their advice. Now I am a stronger and better person."
Speaking of the inspiration of her music single 'Friends' she said "The song 'friends' is generally about friends and it is passing across a message to people out there to be careful of people they call friends because not everybody is happy that you are going up there.
"What inspired the song was after the whole crisis, the incident was centralised on friends so I thought to do  music about the whole stuff(incident) and that is how friends came about."
She also attributed the track to life's experience which she has passed through, comprising of betrayal and bad company.
" Where I am now, I live my life and I have actually healed but I am still having trust issues anyway but whatever you are going through in life just look on the bright side because in every storm there is always hope.
"It is in our stormy periods God intervenes and opens doors for us so never lose hope and never give up on yourself. "