Gerard Pique told reporters that his now famous social media posting declaring Neymar would stay at Barcelona was his "intuition" and not breaking news.
The post, with a photo of Pique and Neymar with the caption "He stays" was seen as confirmation that the Brazilian would not go to PSG with a monster transfer fee.
Read Also: Neymar Will Not Be Leaving Barcelona -Club President
Pique said he told Neymar that PSG was in an inferior league and he would not get the recognition there unless they won the Champion's League.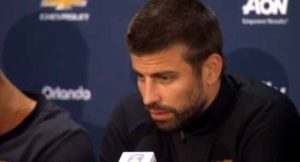 "For the conversations that I had with him, it's just my intuition that he'll stay, other than that obviously, I hope that he (Neymar) stays. We were in a relaxed atmosphere with other teammates when we took that photo, and that's how that went. But in no way was that anything official. Well because firstly, it's really not my business, and the person who has to decide that is Neymar." Pique said.
Also, Javier Mascherano told reporters at FedEx Field outside Washington, DC that it was the desire of the entire team that Neymar stay at Camp Nou.
"It's clear what he said yesterday, and it's a bit of the desire of the entire team, the desire that he stays, because he's a hugely important player for us, more than just his quality as a soccer player, he has huge value, his personal qualities within the group."
Barcelona is in DC preparing for their Wednesday International Champions Cup match with Jose Mourinho's Manchester United team prior to their South Florida "Clasico" in Miami against Real Madrid.
Read Also: Neymar To PSG Just Rumours, Says Ernesto Valverde