Obstetric Fistula: FG Set To Treat 400,000 Patients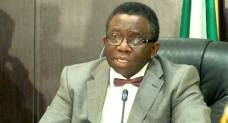 The Federal Government said it has concluded plans to carry out free obstetric fistula repairs on identified 400, 000 patients, with a view to alleviating the sufferings of women afflicted by the ailment.
The Minister of Health, Professor Isaac Adewole, who made the disclosure in Osun State, described obstetric fistula, a child birth injury peculiar to underage girls, as an indicator of poverty and lack of ignorance.
The minister disclosed this on Thursday at the official commissioning of a one-week pooled obstetric fistula repairs at the Wesley Guild Hospital Complex, Ilesa.
He noted that the Federal Government has resolved that the fistula repairs would be done by trained surgeons in all the teaching hospitals in the country.
"We need to close the tab and carry out a backlog of about 300,000 to 400,000 fistula repairs so that sufferers of this debilitating condition can get a reprieve," said Professor Adewole.
He noted that investment in health gives much return that other sectors, adding: "President Muhammadu Buhari led administration would make fistula repair one of its cardinal points, like other serious disease such as cancer and diabetes".
On his part, the country director for the United States Agency for International Development (USAID)/Fistula Care Plus, Iyeme Ifem, highlighted the mandates of the agency in the operations.
He said: "Our mandate from the U.S. government is to carry our fistula repairs on about 250,000 sufferers and we have been able to repair about 6,000 cases per year".
"US/USAID is funding the project to ensure that we meet the target of carrying out repairs on as many women as possible. We are only facing some challenges on post operational care of women after repairs in hospital wards," Ifem added.
In his remark, the Chief Medical Director of Obafemi Awolowo University Teaching Hospital Complex (OAUTHC), Professor Victor Adetiloye noted that Wesley Guild Hospital needed the intervention of the government.
"From inception, Wesley Guild Hospital has been operating as a primary, secondary and tertiary hospital. Bringing these free fistula repair surgeries here has brought succour to indigent patients suffering from the disease".
Adetiloye said that the obstetric fistula repair programme was key to the World Health Organisation (WHO) and Millennium Development Goals (MDGs) Five.
He, however, urged the minister to help in the training and mentoring of the medical professionals that would be involved in carrying out the operations.