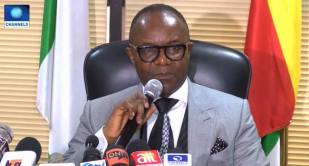 The Minister of State for Petroleum Resources, Dr Ibe Kachikwu, says the ministry cannot confirm the rescue of the oil workers who fell into the ambush of suspected Boko Haram terrorists in Borno State.
The minister stated this on Thursday at a news conference in Abuja, the Federal Capital Territory.
READ ALSO: Army Rescues All Kidnapped Oil Workers
"We have heard but cannot confirm reports that there has been some rescue; those details we are still discussing with military authorities. I'm sure that in the next couple of days the military authorities will give us a lot more specifics in terms of the number of causalities and we will begin to make contacts with their respective families to support them at this very difficult times," he said.
Dr Kachiwu noted that resumption of crude oil prospecting in the Chad Basin would continue when adequate security has been made for workers involved in the exploration.
On July 25, suspected Boko Haram terrorists had attacked the convoy of the Nigeria National Petroleum Corporation (NNPC) workers involved in Gubio Local Government Area of Borno State.
Also attacked were consultants from the University of Maiduguri, some military personnel and members of the civilian Joint Task Force escort team.
The team was returning to Maiduguri after conducting a geological study of part of the Lake Chad Basin in preparation for re-entry for seismic activities.
The Nigerian Army, through its spokesman Brigadier General Sani Usman, however, said that all the workers had been rescued and would inform the ministry at the appropriate time.
Brigadier General Usman had noted that on receipt of the information, the Army mobilised and sent reinforcement, search and rescue party that worked and pursued the terrorists throughout the night.
Unfortunately, he said the Army was unable to rescue nine of its personnel and a civilian who were killed by the insurgents.