Resident Doctors Give FG 21-Day Ultimatum For Promotion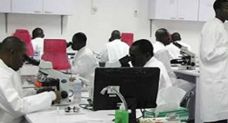 The National Association of Resident Doctors (NARD) has threatened to down tools in the next 21 days unless the Federal Government meets their demands.
This was made known in a communiqué signed by the President of the association, Dr. Onyebueze John, Secretary General, Dr Aneke Emmanuel and Publicity Secretary, Dr Asinobi Ugoeze.
The resident doctors are demanding their immediate enrollment in the Integrated Payroll and Personnel Information System (IPPIS), platform without further delay.
Other demands include the circularization of House Officer entry point despite various collective agreements on same as well as an alleged plan by the Federal Government to stagnate the promotion of resident doctors.
NARD has also referred Minister of Health, Isaac Adewole; a former Health Minister, Dr. Onyebuchi Chukwu, and all life members for sanction for allegedly carrying out activities and actions inimical to the welfare and progress of the association.