High Cost May Force Nigeria To Stop Oil Production – Kachikwu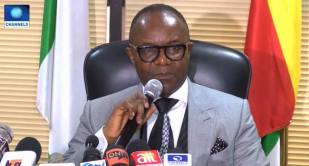 The Minister of State for Petroleum Resources, Dr Ibe kachikwu, says Nigeria will be forced to stop the production of crude oil if the cost of doing that remains high.
Dr kachikwu made the statement today at the opening ceremony of the Nigeria Annual International Conference and exhibition organised by the Society of Petroleum Engineers in Lagos.
According to him, countries within the United Arab Emirates had cut costs significantly, describing them as the lowest-cost producers in the world.
He added that Nigeria might forcefully call for a reduction in the cost if negotiations are not possible, adding that only oil companies that are able to drive down costs will thrive in the country.
"For me, you rather leave the oil in the ground than produce at a cost that doesn't make sense. So, cost is going to be a very high driver. So that is certainly one area we are focusing on; we are working collaboratively with oil companies," he said.
"But let's make no mistake about it, if we cannot negotiate it down, we will compel it or we will stop the production; it does not make any sense."