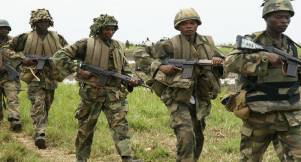 The Nigeria Army has reiterated its determination to arrest or kill the Boko Haram terrorist leader Abubakar Shekau on or before the expiration of the 40-day ultimatum earlier given.
The Army spokesman Brigadier General Sani Usman revealed this in Buniyadi, Yobe state, one of the front lines operational base center in the prosecution of the Boko Haram terrorists' war in the north east.
The Chief of Army Staff had a closed door session with the troops particularly the troops of 27th Taskforce, the Nigeria Army Special Forces School and other students on the course and these soldiers during the interactive sessions bared their minds in proffering solutions were necessary.
The soldiers expressed gratitude and happiness with the COAS for being with them and also promised that the deadline for the capture of Shekau Eith dead or alive will be accomplished.
"The clearance operation of the remnants of these criminals that call themselves Boko Haram will be decisively dealt with to a logical conclusion," The director of Army Public relations said.
On the ultimatum to capture Shekau after declaring him dead years back, the Army spokesman said the military has never said Shekau has been killed but a man parading himself as Boko Haram leader on the social media is the one we are currently hunting for.
The deadline to get him dead or alive according to him is still enforced.
"From July 2014 to date nobody, especially on the part of the Nigeria Army, has ever said Shekau was dead
"And If you are following things carefully, there is an individual that is coming up on the social media to claim responsibility and leadership of Boko Haram, that is the person we are talking about.
If you are in possession of our wanted terrorists' poster, you would have known that is the person we are talking about and we are so determined to meet up with that deadline to either kill him or capture him"
Severally, the military had claimed that the Boko Haram leader had been killed, after which a man claiming to be him would reappear in a video in which he dismisses claims that himself as well as his members were killed.
READ ALSO: Nigerian Army Insist Shekau Is Dead
In 2014, the military claimed that one Mohammed Bashir, who had been acting or posing in videos as the deceased Abubakar Shekau, was killed in a counter-terrorism operation in the north-east.
But on July 22, 2017, The Chief of Army Staff, Nigerian Army, Lieutenant General Tukur Yusufu Buratai, directed the Theatre Commander, Operation Lafiya Dole, Major General Ibrahim Attahiru, to capture Abubakar Shekau, the self-acclaimed leader of the Boko Haram terrorist group, dead or alive.
The Theatre Commander has been directed to do so within 40 days.
READ ALSO: Chief Of Army Staff Gives Troops Deadline To Capture Shekau