Boko Haram Will Remain Technically Defeated – Buratai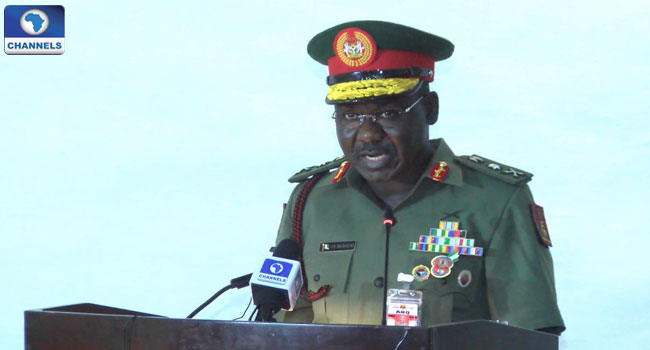 The Chief of Army Staff Lieutenant General Tukur Buratai has said that the Boko Haram terrorists will forever remain technically defeated.
He made this known while speaking in Damaturu the Yobe state capital shortly after a closed door meeting with the state governor Ibrahim Gaidam.
In a brief chat with journalists after the meeting, Lt Gen Tukur Buratai said because of the sustained onslaughts on the terrorists, "they will continue to remain technically defeated and they will never be as strong as they were previously".
The Army Chief had before the closed door meeting visited the 159 battalions in Geidam located north of Damaturu the Yobe state capital and later the military base located in Kanamma the Nigeria/Niger border.
He asked the soldiers at the theatre of war to work towards ending the fight by clearing the remnant of the Boko Haram terrorists.
He charged them to be law abiding and respect rules of engagement as the military hierarchy will not take their welfare issues lightly.
The Army Chief assured them that the military under his leadership will continue to rotate the soldiers in the theatre of operation instead of allowing others to over stay in the war front.
The COAS had a week ago directed the theater commander to work towards delivering the Boko Haram leader Abubakar Shekau within forty days an ultimatum the military hierarchy said is still enforce.
The highest military hierarchy had since then returned to the theatre of war in Adamawa, Borno and Yobe states to ensure that the renew terrorist attack on solve targets are eradicated completely.
The Acting President, Yemi Osinbajo had earlier challenged the Nigerian Armed Forces to be at the cutting-edge of technological warfare.
READ ALSO: Terrorism Fight: Osinbajo Challenges Military To Change Tactics
According to Prof. Osinbajo, militants, terrorists, hackers and economic saboteurs are re-inventing themselves with technology, thereby changing the very nature of warfare in the 21st century.
He warned the military to be mindful of the fact that the nature of warfare waged  by these groups challenges conventional military strategies, and therefore must be innovative in how they confront current security challenges.
He further added that it is only by preparing and adapting to the changing nature of the security landscape that countries can win the war against terrorism, economic sabotage, and cyber crimes.