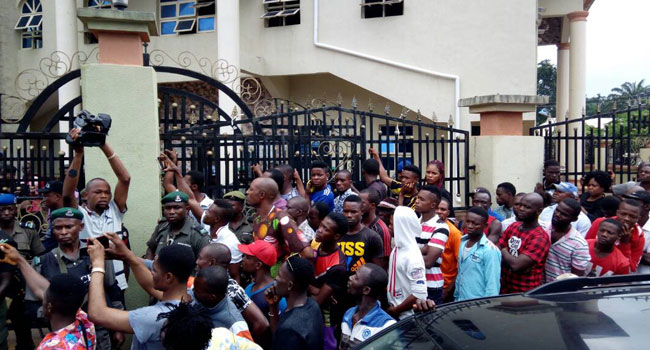 The Commissioner of Police in Anambra State, Mr Garba Umar, has attributed the gunmen attack on St. Philips Catholic Church in Ozubulu to a 'gang war'.
At least 11 persons were said to have been killed while several others were left injured in the attack which occurred during an early morning mass on Sunday.
The Police Commissioner, who condemned the attack as sacrilege, noted that the shooting was a reprisal attack after the perpetrators traced their victim to the church.
READ ALSO: Several Killed As Gunmen Attack Church In Anambra
He said: "Information revealed that this (attack) is not unconnected to a kind of a 'gang war' between indigenes of the state – the children of the same village – who are engaged in a warfare outside Nigeria, precisely in South Africa; there were killings earlier and this is a reprisal attack.
"They (the gunmen) went to the church where he (the victim) was suspected to be undergoing the process of worship; the assassins fired and killed some people and that is the situation".
Mr Umar told Channels Television that the church authority, however, confirmed the death of the victim's father during the attack.
Police Confirm At Least 11 Killed In Anambra Church Attack
He assured the public that the gunmen would be arrested soon, saying the police have gathered adequate information to help them apprehend the suspects.
"One significant point I would like to mention is that the father of the person they were looking for was killed and that is a confirmation from the church. We have an information which we are working on so that we can get those guys.
"The person whom they were looking for was the person that built the church and he has other churches that he has built and in order to forestall any further attack, we were able to secure those churches that he built.
"The most important thing is to get those (people) who committed the offence and we are working on that. We have enough intelligence information that will lead to their arrest and very soon, arrests will be made", the Police Commissioner added.