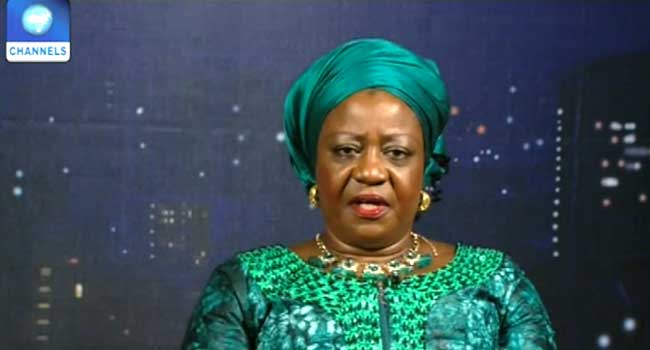 The Personal Assistant to the President on Social Media, Lauretta Onochie, has described the call on President Muhammadu Buhari to disclose his health status and resume or resign as disrespectful and insensitive.
The Presidential Aide said this on Monday when she appeared on Channels Televisions' Politics Today.
Onochie comments came hours after Concerned Nigerians, a coalition of youth groups, protested in Abuja, demanding that the President should resume or resign. while condemning the demand by a group of youths in Abuja.
The group also called for the disclosure of the President's health status.
Onochie, however, said President Buhari's absence had not affected governance in Nigeria because he handed over to his vice, Professor Yemi Osinbajo, in accordance with the law.
"It is very insensitive of anyone to begin to call on someone who is unwell to resume. Governance is going on, the role of the President is that of coordination; governance is a collective duty. When he (Buhari) was leaving, power was fully transferred to the Vice President and today, we have an Acting President," she said.
"I have no idea why anybody would disrespect another by asking for the details of their health status. As we speak, we have an Acting President; President Buhari seems to be a private citizen at the moment; it is very disrespectful for anyone to ask for his health status," she added.
Onochie argued that President Buhari has not violated any constitutional provision and that the Presidency is under no pressure.
She said the President can only disclose his health status if he wishes do so.
"The President has acted constitutionally; he has not broken any law, any rule or any constitutional provisions in our nation. The prerogative to tell Nigerians lies only on President Buhari; it is disrespectful and intrusive, it is not right, it is not appropriate," she said.
Meanwhile, a co-convener of the group, Deji Adeyanju, who also appeared on on the programme, argued that Section 144 of the Constitution had recommended the setting up of a medical panel to address the controversy surrounding the President's health status.
He said, "What our group is saying is that the President needs to come back home and resume and work on the mandate that he promised the people and again, we are saying that Section 144 is the only thing that can help to solve the problem."