Why We Searched UN Building – Army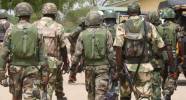 The Nigerian Army has explained why it searched a building in Maiduguri, the Borno State capital, belonging to the United Nations in the early hours Friday.
The Army said while it was not aware that the building belonged to the UN, the search was part of cordon and search operations and 30 other buildings were equally searched.
This was disclosed in a statement by Lieutenant Colonel Kingsley Samuel for the Theatre Command, Operation Lafiya Dole, while highlighting some of the recent successes of the Army.
Read Also: Soldiers Search UN Building In Maiduguri
According to the statement, the search was necessitated by the fact that the Boko Haram Terrorists changed tactics and resorted to targeting military locations, hence the need to intensify clearance operations in the Maiduguri metropolis.
"In the last one week cordon and search operations were conducted in Jiddari –Polo, Muna Garage, Jakana amongst several other areas. On 10th August 2017, Theatre Command received information from one of its credible sources that some high-value BHT suspects had infiltrated into Pompomari Bye Pass. It, therefore, became expedient to take preemptive action by combing the general area through a cordon and search operations.
"The operation was successfully conducted as over 30 houses were searched. One of such included a property which was said to be occupied by United Nations Staff, although the property did not carry a UN designation. On the whole, operation in the general area was successfully concluded but no arrest was made because the suspects were not found.
"The command wishes to assure the general public that these operations are being conducted to safeguard lives and properties but not targeted at any individual or group. The general public is cautioned to avoid peddling rumours which may cause disaffection and to remain law abiding," the Army statement read.
Reports had emerged on Friday that the Army searched a building belonging to the U.N.
A spokesperson for the organisation, Samantha Newport confirmed the incident to Reuters saying the U.N had no information on the reason for the unauthorised search.