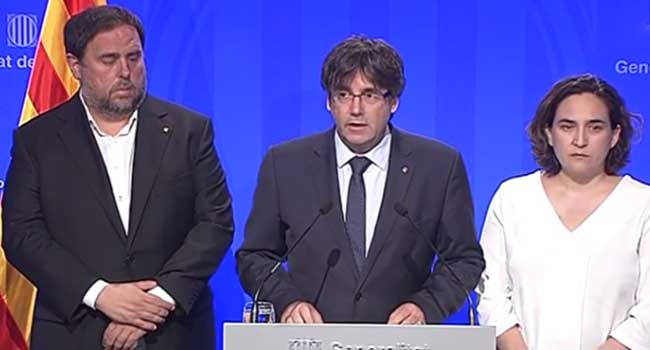 Catalonia's president, Carles Puigdemont, condemned the attack in Barcelona that killed a total of 13 people and was claimed by Islamic State.
When Puigdemont spoke, 12 were confirmed dead but the number was increased to 13 later in the evening.
He said two people had been arrested. It was still not clear how many attackers had been involved.
Witnesses said the white van zigzagged at high speed down Las Ramblas, a busy avenue thronged with tourists, knocking down pedestrians and leaving bodies strewn across the ground.
Islamic State's Amaq news agency said: "The perpetrators of the Barcelona attack are soldiers of the Islamic State and carried out the operation in response to calls for targeting coalition states" – a reference to a U.S.-led coalition against the Sunni militant group.
The claim could not immediately be verified.