Ojukwu Agreed With Me In 2003 That Nigeria Must Remain United – Buhari
Less than 48 hours after his return to the country from London, where he spent more than 100 days on medical vacation, President Muhammadu Buhari has backed Vice President Yemi Osinbajo in defending the unity of the nation.
Professor Osinbajo who was Acting President while the President was away had repeatedly insisted that the unity of the country was not negotiable.
His comments had come amid agitations for secession in the South East, a quit notice to Igbos in the North by northern youth groups and repeated calls for the restructuring of the country.
President Buhari, in defending the government's position on the unity of the country recalled an encounter with the late General Chukwuemka Odumegwu Ojukwu in 2003.
According to the President, Ojukwu who led the 'Republic of Biafra' in its attempt to secede from Nigeria from 1967 to 1970 agreed with him that the country should remain united.
In his national broadcast this morning, President Buhari said, "In 2003 after I joined partisan politics, the late Chief Emeka Ojukwu came and stayed as my guest in my hometown Daura. Over two days we discussed in great depth till late into the night and analysed the problems of Nigeria. We both came to the conclusion that the country must remain one and united."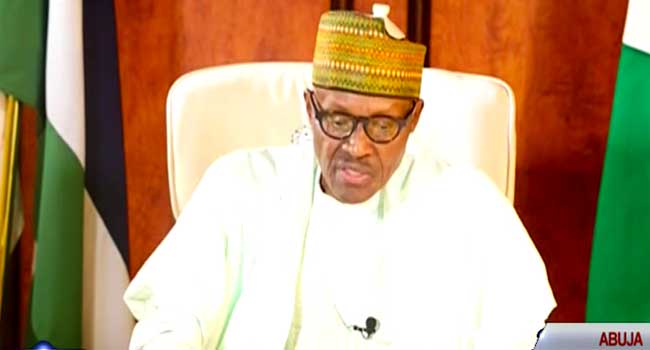 Consequently, the President warned that secessionist agenda would not be tolerated and that all grievances must be channeled through legitimate means.
"Nigeria's unity is settled and not negotiable. We shall not allow irresponsible elements to start trouble and when things get bad they run away and saddle others with the responsibility of bringing back order, if necessary with their blood," he said.