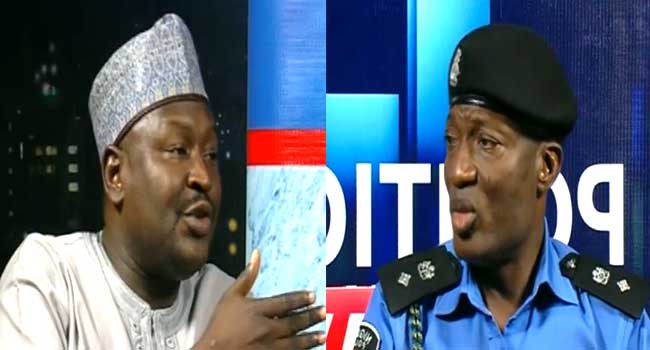 The Nigeria Police says Senator Isah Misau has no reasonable evidence to back the allegations of corruptions against the Force.
The Force Spokesman, Mr Jimoh Moshood, who stated this on Sunday when he appeared on Channels Television politics programme, said there is no element of truth in his claims.
"There is no tangible evidence in what he (Misau) has said to show that monies are being remitted to the police by oil companies, by private citizens, by others because the Nigeria Police is not an agency of government that generates revenue," said Moshood.
"The issue of Internally Generated Revenue (IGR) being diverted in the police is null and void, it's zero. So we don't want him to use whatsoever he's occupying now to cast aspersion on the integrity of the Nigeria Police Force."
Moshood maintained that the Force is not corrupt and that the accuser has no fact to prove his allegations against the police beyond a reasonable doubt.
"Nigeria Police Force is not corrupt and I want to say that we've been vindicated from his remarks now that he didn't say the Inspector General of Police (IGP) is pocketing N10bn. He said about N10bn is being paid to the Nigeria Police, by who?" he questioned.
"Like in law, they say whosoever alleges proves the allegation; the gentle man here has not been able to prove beyond reasonable doubt that the Nigeria Police is collecting the money.
"Journalists asked him whether there are people who said they are paying N500,000; he said it's not N500,000 that it is N2.5m they are paying. Who paid this N2.5m he has not told the police."
In his resolve to rid the police of corruption, the Force spokesman said IGP Ibrahim Idris had set up a panel to investigate Senator Misau's claims.
He said, "Because of the stigma or the impact the allegation will have on the integrity of the Nigeria Police Force, the Inspector General of Police promptly set up a special investigation panel who wrote him through the Senate President for the first time to meet with the committee.
"Subsequently he didn't surface and another letter was written to him to provide evidence – documents to back his allegation that monies are being collected by the Nigeria Police, and that monies are being collected by the Police Service Commission for promotion which he refused to do so."
Moshood, however, noted that the lawmaker left the police without following due process, saying he had been declared as a deserter and that appropriate measures would be taken against him.
"He deserted the Nigeria Police Force on September 24, 2010, when he was deployed to Niger State Police Command. He deserted and went to contest for an election in 2011 in Bauchi State, a senatorial election and the records are there.
"He subsequently came up with a retirement letter dated 2014 and while the police were looking for him was when he contested for an election and he lost that election.
"Then went back to contest for an election in 2015 and today (Sunday), he has been declared a deserter by the Nigeria Police Force and which necessary action will be taken in that regard," he said.
Senator Misau, however, insisted that he officially retired from the Force and that he has evidence to back his claims against the police.