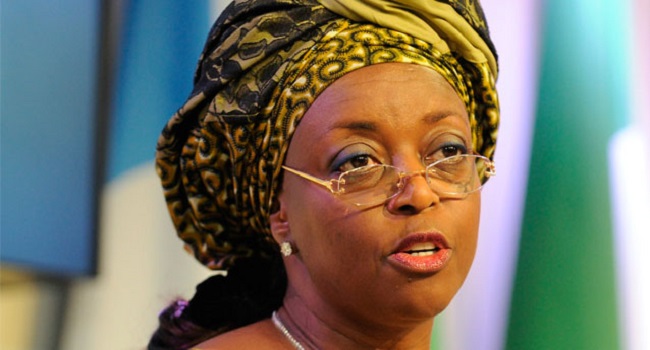 The Federal High Court Sitting in Lagos has ordered the final forfeiture of a sum of N7,646,700,000 allegedly belonging to the Former Petroleum Minister, Diezani Alison-Madueke.
The Economic and Financial Crimes Commission linked the offence to a former Minister of Petroleum Resources, Mrs. Diezani Alison-Madueke.
About three weeks ago, the Commission who wanted the money forfeited to the Federal government had told a vacation judge, Justice Chuka Obiozor via an ex parte application that the N7.6bn was part of a sum of $153,310,000 which Mrs Alison-Madueke allegedly siphoned from the coffers of the Nigerian National Petroleum Corporation sometime in 2014.
The EFCC also alleged that Mrs Alison-Madueke stashed the money in three banks, and the Federal Government had since February last year, through an order granted by another judge, Justice Muslim Hassan also of the Federal High Court, recovered part of the money from the other banks.
The anti-graft agency recalled that the Federal Government had recovered N23.4bn, $5m and another N9.08bn out of the $153.3m.
Justice Obiozor had granted the interim order on August 9 and directed the commission to cause it to be published. He then adjourned till today, August 28, 2017 for the bank and any other interested party to appear before him to show cause why the funds should not be permanently forfeited to the Federal Government.
At the proceedings today, Counsel to the EFCC, Mr Rotimi Oyedepo told Presiding Justice AbdulAziz Anka that the Commission had complied with the courts order and no one had come forward to lay claims to the money.
He urged the court to order the final forfeiture of the money.
Justice AbdulAziz Anka granted the order as prayed . He also held that all parties have a right of appeal.