Ekiti Assembly Suspends Another Lawmaker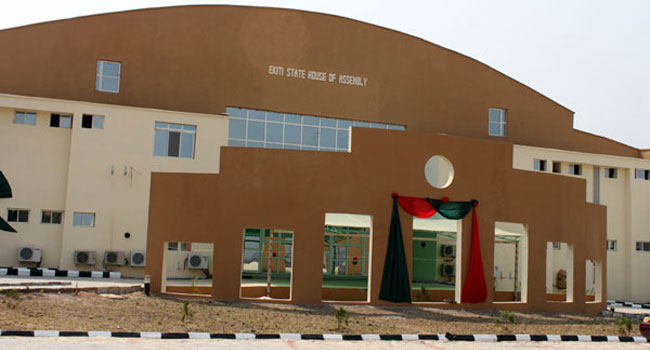 The Ekiti State House of Assembly has suspended the lawmaker representing Ekiti-East Constituency 1, Fajana Ojo-Ade.
Mr Ojo-Ade was suspended for a period of 101 legislative days without pay "except he shows signs of genuine remorse".
While on suspension, the lawmaker is barred from coming within one-kilometre radius of the Assembly complex and he must submit all properties of Ekiti State House of Assembly in his custody to the clerk of the House.
A statement by the Chairman, House Committee on Information, Samuel Omotoso, said the suspension came into force after the disciplinary committee set up by the Speaker, Kola Oluwawole, to investigate Mr Ojo-Ade submitted its report at plenary.
Omotoso said Ojo-Ade appeared twice at the sitting of the disciplinary committee in the last two weeks, where he defended himself against allegations of gross misconduct, among others.
The committee found the lawmaker guilty of gross misconduct in breach of the extant rules and standing orders of the Assembly, according to the statement.
After receiving the report at its plenary on Wednesday, the Assembly unanimously approved the recommendations of the disciplinary committee.
Apart from the suspension and restriction placed on the lawmaker, he is also expected to write a letter of apology to the Assembly through the Speaker.
A lawmaker, Gboyega Aribisogan, had been suspended for 108 days in October 2016 for gross misconduct.
Eight months later, in June 2017, Aribisogan defected from the Peoples' Democratic Party (PDP) to the All Progressives Congress (APC) and declared himself as the minority leader in the Assembly.
The leadership of the Assembly has refused to recognise him as the minority leader or allow him into the chamber. Instead, the lawmaker was suspended indefinitely in July.