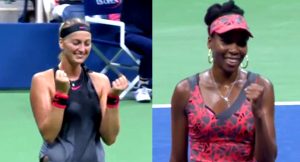 Czech Petra Kvitova beat Wimbledon champion Garbine Muguruza in the US Open fourth round on Sunday while Venus Williams beat Carla Suarez Navarro.
Kvitova found herself 4-1 down in the first set before turning it around with strong serves and a powerful forehand, eventually taking the set in the tie-break.
Petra Kvitova said: "So many people who follow the sport know what you've been through, how would you describe the journey from last December to a moment like this?")
"I don't think that I can find the right words, I mean it was a difficult time, all five months were very very tough and you know it was just a journey which I didn't know how the journey will end, and if it's ending here on the big stage it's just a happy end."
Muguruza struggled with Kvitova's aggressive style and the Czech, who plays in her first US Open since seriously injuring her playing hand in a knife attack at her home last December, won the second set 6-3.
Williams, who plays Kvitova in the next round, won the first set before seeing Navarro fight back to win the second, but took control of the game in the third set, taking it comfortably.
Williams said: "Now 19 (wins) and 3 (losses) in majors this year. You talk about it often, what is it about the biggest stages that brings out your best?")
"I think Billie Jean King put it best: 'Pressure is privilege'. I need a challenge, I love the pressure, and especially as this is the last major and it's at home, there's no better feeling than the energy in here at Ashe (stadium) when you guys go wild. I mean do you hear that, that energy, I'm like: 'alright, I've gotta do something, I gotta hit an ace, I gotta hit a winner, something's gotta happen'. I love it here."