IPOB, Nigerian Army Disagree Over Violence At Nnamdi Kanu's Residence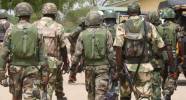 Conflicting reports have emerged over the violence at the home of the leader of the Indigenous People of Biafra, Mr Nnamdi Kanu, in Abia State.
The violence on Sunday involved the Nigerian Army and supporters of Mr Kanu.
In its account of the incident, IPOB claimed that soldiers laid an ambush on their leader's home in Abia and opened fire on the security personnel, who tried to prevent them from gaining entry.
In the process, IPOB alleged that three people were killed and more than 20 others were injured.
The Nigerian Army, however, denied the claims in a statement issued by its Assistant Director of Public Relations, Major Oyegoke Gbadamosi.
"This is far from the truth. Rather, it was a group of suspected IPOB militants that blocked the road against troops of 145 Battalion while on a show of force along FMC-Word Bank Road in Umuahia town, Abia State at about 6.00-6.30pm, today (Sunday)," the statement read in part.
"They insisted that the military vehicles would not pass and started pelting the soldiers with stones and broken bottles to the point of injuring an innocent female passerby and a soldier, Corporal Kolawole Mathew."
Although Major Gbadamosi admitted that troops fired warning shots into the air to disperse the protesters, he insisted that no life was lost.
He said both the soldier and the passerby have been evacuated to the unit's Medical Inspection Room in Umuahia, the state capital, where they are receiving treatment.
The Abia State Police Command also confirmed the incident, saying the situation was brought under control without any loss of life.
A statement issued by the Police Public Relations Officer, Geoffrey Ogbonna, said a policeman was also injured during the clash.
"During the clash, a policeman was given machete cut on his head and back; one of the soldiers on the military APC, attached to FOB Umuahia, was injured in his left wrist and one Mrs Grace Nwokeukwu of Umuobasi lsiama Afara, Umuahia also had a machete cut on the head.
"All the victims were taken to Police Clinic Umuahia for treatment, while the situation has since been brought under control without any loss of life," Ogbonna said.