I Can't Disclose How Much I Earn, Senate Spokesperson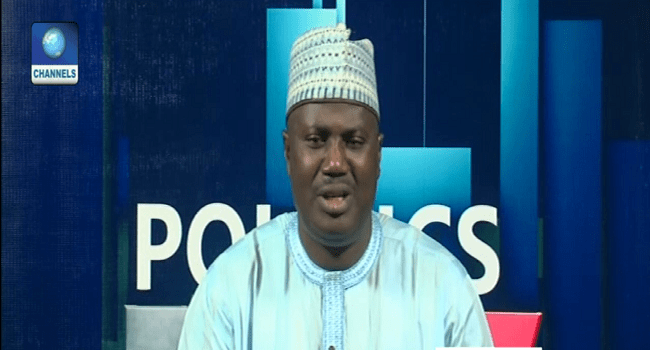 The Chairman, Senate Committee on Media and Public Affairs, Senator Aliyu Abdullahi, has said that he cannot disclose on a national television programme, how much he is being paid as a Senator.
Speaking on Channels Television Programme, Sunday Politics, Senator Abdullahi lamented that the Senate is constantly harassed by Nigerians calling for how much they earn and that the issue of Nigerian legislators' wages has been a recurring one in the last couple of years.
Senator Abdullahi said, "You don't expect me to come out on national television to say this is what I earn. It is not done. I cannot ask you as a journalist how much you earn. It is not done.
"If anybody is interested in how much we are getting paid, you know where to get the information. The documents are available. If Nigerians won't believe that, is it, what I will say that they will believe?"
"This issue has become a recurring decimal. In the last two years people have been discussing this matter and I always ask myself, what do people really want to believe? I think if this subject matter has been discussed for two years and we are still looking at issues wrongly, then I think there is something wrong with us."
Explaining further on the institutions responsible for providing information on salaries of Senators, Abdullahi said a law was promulgated on the Top Political Salary Scale (TOPSA), provisions on which all political office holders are paid.
"The institutions that are responsible for providing this information are there. A law was promulgated on Top Salary Scale also known as TOPSA and it is based on this scale that everyone who holds one political office or the other gets paid."
Chairman, Presidential Advisory Committee against Corruption, Professor Itse Sagay's (SAN) last week said that a Nigerian senator earns N29million.
Giving more details, Sagay said, "From the information I have gathered, a Nigerian senator earns about N29million a month and over N3billion a year. Basic salary N2,484,245.50; hardship allowance, 1,242, 122.70; constituency allowance N4, 968, 509.00; furniture allowance N7, 452, 736.50; newspaper allowance N1, 242, 122.70.
"Wardrobe allowance N621,061.37; recess allowance N248, 424.55; accommodation 4,968,509.00; utilities N828,081.83; domestic staff N1,863,184.12; entertainment N828,081.83; personal assistant N621,061.37; vehicle maintenance allowance N1,863,184.12; leave allowance N248,424.55; severance gratuity N7, 425,736.50; and motor vehicle allowance N9, 936,982.00."
The Senator added that Professor Sagay must have been paid based on the provision of the same Top Salary Scale (TOPSA) from which Nigerian Senators and all other political office holders are paid, adding that he cannot be speaking concerning the figures made available by Professor Sagay.
"I want to also submit that I presume Professor Sagay would have been paid based on the provision of this scale.  For us in the National Assembly, the question needs to be asked 'what is the cost of having democracy and what is the cost of not having democracy?,'" he said.