JOHESU Gives FG 'Final Ultimatum', Threatens Indefinite Strike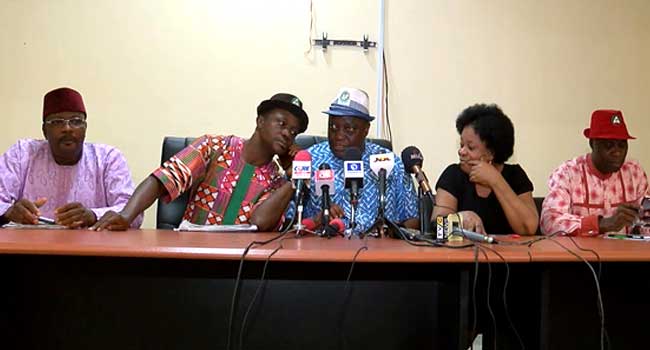 More troubles loom in Nigeria's healthcare sector, as the Joint Health Sector Unions (JOHESU) has given the Federal Government a seven-day ultimatum to meet its demands.
While the National Association of Resident Doctors (NARD) is still on strike, JOHESU also threatened to embark on an indefinite strike from September 20, if the government fails to address all its concerns.
The health workers are demanding for the payment of promotion arrears to their members, the abolition of scale to scale promotion and the implementation of all court judgements given in their favour.
This comes as the Federal Government struggles to settle the resident doctors who have been on strike since September 4, a situation that has unleashed untold hardship on patients in public hospitals.
Addressing a press conference on Wednesday in Abuja, JOHESU President, Biobelemoye Josiah, decried government's failure to meet their demands which he said they have been negotiating since May 2012.
According to him, the unions have resolved to inform Nigerians of their intention to "down tools as from the midnight of Wednesday, September 20, 2017."
Josiah accused the government of frustrating the implementation of court judgements, saying the National Industrial Court of Nigeria (NICN) had ruled promotion issues concerning JOHESU members.
"We were in court till 2013 when judgement was given in favour of JOHESU," he said, adding "The Federal Ministry of Health has been frustrating the implementation of the court judgements by introducing same scale promotion."
"For instance, when members are promoted from CONHES 9 to 11, at subsequent promotions, they will be promoted from CONHES 11 to CONHES 11. This is totally unacceptable."
The JOHESU President said the seven days ultimatum would come to effect from Thursday, after which he said they would begin a total indefinite industrial action on Wednesday next week, should government fails to meet their demands.
"We are left with no options than to give a final seven-day ultimatum, with effect from Thursday, September 14, 2017," he said.
"And if by the midnight of Wednesday, September 20, 2017, our demands are not met, all our members nationwide are called upon to embark on indefinite total strike."