IGP Launches Community Policing Guidelines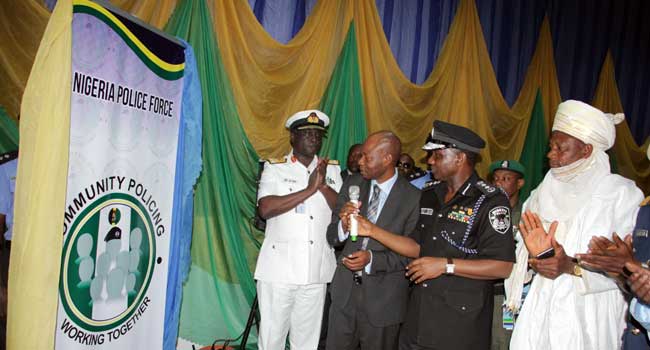 In a bid to stem the tide of criminal activities in the country, the Inspector General of Police, Mr Ibrahim Idris, has launched the community policing re-engagement strategic guidelines.
Mr Idris at the public launch in Abuja, appealed to Nigerians and sister security agencies to cooperate with the Nigeria Police Force in reducing crime to the barest minimum.
He expressed optimism that a proactive approach to policing and the active engagement of local communities will assist to reduce crime and anti-social behaviour in the country.
"The country is currently grappling with some security challenges evidenced in the escalation of violent conflicts and crimes. From herdsmen-farmers clashes, insurgency in North-East, resurgence of militancy in the Niger Delta and kidnapping for ransom, it is obvious that there is a need for a strategic policing approach," the IGP said.
"So far, we have been successful to some extent in reducing these threats, but with the re-launch of this all-encompassing community policing strategy, we shall develop a better interactive relationship that will lead to improved support and cooperation from our various stakeholders."
As part of the strategy, the IGP inaugurated a seven-man community policing management committee made up of professionals to work with the management team of the Nigeria police to oversee the initiative.
The committee is comprised of the CP Community Policing representing the IGP, Professor Olu Ogunsakin, Mrs Kemi Okenyodo, Lt. Col. U.F Abubakar, Representative of Ministry of Justice, Mrs Ovibiagele A. Efelomon, Mr Adeniran Akingbolahan.
Community policing was initially introduced in Nigeria on April 27, 2004, with the President at the time, Chief Olusegun Obasanjo, launching the pilot phase in Enugu.
The pilot phase of the programme was aimed at establishing a clear departure from traditional policing, that was reactive and incident-based, to a problem-solving oriented policing that is proactive with the community as the cornerstone of policing objectives.
"It is on this premise that the Nigeria Police Force has made the decision to review and develop more inclusive strategic guidelines taking into consideration lessons learned from its pilot phase," the IGP said.