Adesina 'Can't Confirm Or Deny' Whether Buhari Endorsed IPOB Ban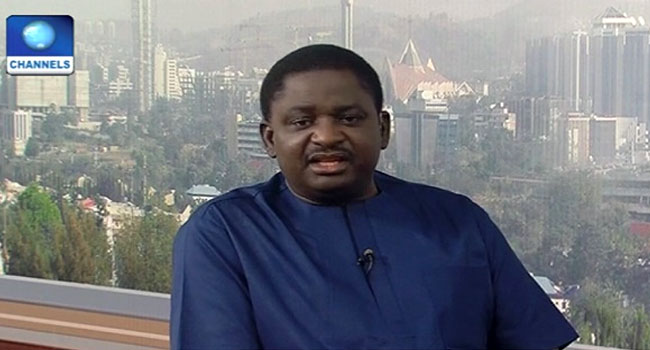 The Special Adviser to the President on Media and Publicity, Mr Femi Adesina, says he is unaware of whether President Muhammadu Buhari okayed the declaration of the Indigenous People of Biafra as a terrorist organisation.
Mr Adesina said this in response to questions he was asked during an interview on Channels Television's Politics Today on Tuesday.
Secessionist group IPOB had been declared a terrorist group by the Nigerian military on Friday. Hours later, governors of the South-East proscribed the activities of the group.
The development which came amid increased tension in the South East and in some parts of the North has generated a debate. While some have defended the decision of the governors and the declaration by the military some others have criticised.
Among the critics are Senate President Bukola Saraki who declared the declaration and ban unconstitutional in a statement on Monday.
As the debate raged questions emerged about the role of President Buhari in the decision by the military with some reports suggesting he endorsed it.
Asked whether the President endorsed the proscription, Mr Adesina said he had read reports online but could not confirm it.
"I read the report also online today, but it is not something I have discussed with him. So, I can't confirm or deny whether that actually came up before he left the country," Adesina who appeared on the programme via Skype said.
READ ALSO: Buhari's UNGA Speech: It Is A Good Time To Be Nigerian, Says Adesina
The Presidential aide is, however, certain that Nigeria would continue its push for the repatriation of funds stolen from Nigeria and a seat at the UN Security Council at the ongoing UN General Assembly.
President Muhammadu Buhari did not focus on both issues in his speech to the General Assembly, but Adesina believes that doesn't mean there won't be talk about them.
On Nigeria's push for a permanent seat on the Security Council, he said, "There is a bilateral meeting tomorrow (Wednesday) where that will also come up. Last year, it was in the speech of the President. He does not need to repeat himself year after year. That can be done at a smaller forum and it's going to come up."
He expects the same thing to happen with the country's quest for the repatriation of stolen funds.
"It (talk about repatriation of funds) had come up in one meeting yesterday and it will still come up. Tomorrow, he (President Buhari) is going to hold a bilateral meeting with the United Nations Secretary-General, you can be sure that is going to be part of what will be discussed," Adesina said.