Oyigbo Attack: Northern Governors Commend Wike's Move In Restoring Peace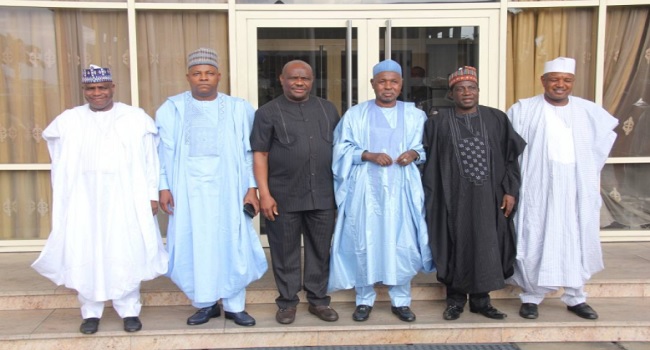 The Borno State Governor, Kashim Shettima has commended the Rivers State Governor, Nyesom Wike for taking urgent steps in protecting the lives of Nigerians in the state.
The governor made this known when he led a delegation of the Northern Governors Forum comprising of the Governors of Katsina, Aminu Bello Masari, Sokoto, Aminu Waziri, Kebbi, Atiku Bagudu and Plateau, Simon Lalong.
Governor Shettima said that the Northern Governors were in Rivers State to identify with Governor Wike and commend the governor for nipping the unfortunate conflict that erupted in Oyigbo Local Government Area.
The Northern Governors Forum said that the actions of Governor Wike, especially his state-wide broadcast helped to restore peace, despite the challenges.
"Governor Wike we are mightily proud of you. We are mightily associating ourselves with you. Nigeria is greater than political differences. We belong to one political family and that is the Federal Republic of Nigeria.
"No interest should be bigger than the Federal Republic of Nigeria. You believe in the Nigerian Project. For that, we remain eternally grateful ".
The Northern Governors Forum called for the enthronement of Peacebuilding measures despite the challenges facing the country.
According to the Northern Governors Forum, no law-abiding Nigerians deserve to be punished because of where they reside and do business.
Governor Shettima said despite the unfortunate incidents in Abia, steps have been taken to ensure that there are no retaliatory attacks in different parts of the country.
In his response, Rivers State Governor, Nyesom Ezenwo Wike declared that he will continue to protect all Nigerians and foreigners living in the state.
"Rivers State believes in the unity of this country. Rivers State will not be a part of those calling for the disintegration of Nigeria. We owe it as a duty to protect every Nigerian living in the state.
"I will not allow any group intimidate, harass or attack other Nigerians living in the state. We are Rivers people and we belong to the Niger Delta ".
While stating that violence can never lead to the resolution of any grievances, Governor Wike urged those who are aggrieved to embrace dialogue in the interest of Peace and development.
"I am not against anyone who wants to protest any grievance, but there are channels for such protests", he said.
Governor Wike added that the people of Rivers State have their own peculiar grievances against developmental issues in the country. He pointed out that as a Governor, he has raised such issues, but will never support the disintegration.