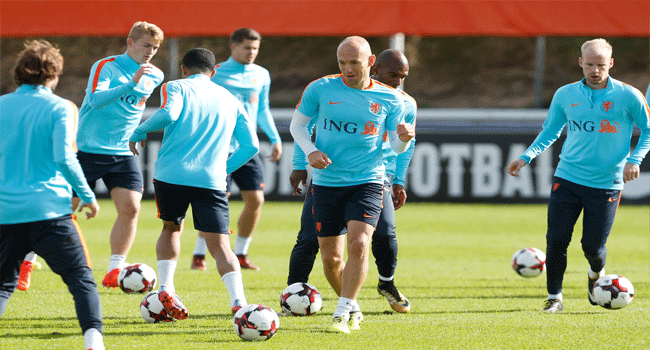 Unless the Netherlands can beat Sweden by a seven-goal margin on Tuesday the inventors of the beautiful game will be absent from the 2018 World Cup finals.
Having missed the cut for Euro 2016 the Netherlands sit third in Group A and can make the play-offs only with a high-scoring win over second-placed Sweden after a poor start to their campaign.
Coach Dick Advocaat, who took over from Danny Blind four games ago, is in no mood to concede defeat however.
"7-0 is possible," he claimed.
"Sweden have just beaten Luxembourg 8-0 so why can't we do the same to them," he reasoned.
Veteran Bayern Munich winger Arjen Robben takes a more realistic line.
"It's over," he said. "Mathematically it's still possible of course, but we need a miracle."
That miracle will have to be achieved without fading 33-year-old Wesley Sneijder, who has been a cornerstone of much of their past success but whose current form is deemed not good enough by Advocaat.
"Personally, I'd have liked him to be here," said Robben, "but the decision is with the coach."
Robben, Sneijder and Robin Van Persie led the way for the Netherlands in their celebrated orange shirts, romping to the 2010 final in South Africa only to be narrowly beaten by Spain.
At the Brazil World Cup under Luis Van Gaal in 2014 they ripped Spain apart and made a fine run to the semi-finals and another narrow defeat, this time by Lionel Messi's Argentina, themselves now on the brink of disaster.
Whether or not the Dutch scrape into the play-offs, assistant coach Ruud Gullit has warned of a worrying trend that sees young Dutch players moving abroad, but then not playing first-team football.
"That's the biggest problem that we have," Gullitt told AFP ahead of the game. "We warned players, young players, to stay in Holland and play first-team football. Because then, later on when you're good enough, you will get to places anyway."
Sweden can still win the group should France lose to Belarus and they themselves beat the Dutch.
AFP