Buhari Seeks Senate's Approval For $5.5bn Loan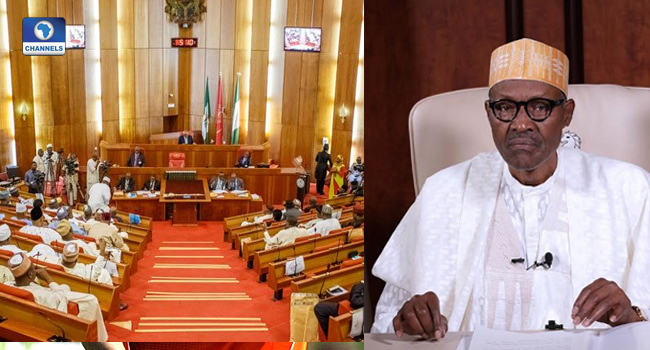 The President, Muhammadu Buhari has asked the Senate to approve an external loan of 5.5billion dollars to finance the 2017 budget.
President Buhari's request was contained in a letter read on the floor of the Upper Chamber by the Senate President, Dr Bukola Saraki.
In the letter, President Buhari explained that the sum of 3.2 billion naira is planned to be partially sourced from issuances in the international capital market, 2.5 billion dollars would be sourced through the euro bonds or a combination of eurobonds and diaspora bonds while seven hundred million dollars is proposed to be raised from multilateral sources.
He further explained that the proceeds from the proposed issuance of eurobonds and diaspora bond in the international capital market would be used to finance the deficit in the 2017 Appropriation Act and provide funding for capital in the budget.
Some of the capital projects include the Mambila Hydropower Project, construction of a second runway at the Nnamdi Azikiwe International Airport, as well as counterpart funding for rail projects and the construction of the Bodo- Bonny road with a bridge across the Opobo channel.
President Buhari has also revealed that the Federal Government plans to source three billion dollars through the issuance of eurobonds in the international capital market to re finance maturing domestic debt as a means of reducing debt service levels.
He however maintained that this would not lead to an increase in the public debt portfolio because the debt already exists in the form of high interest short term domestic debt.