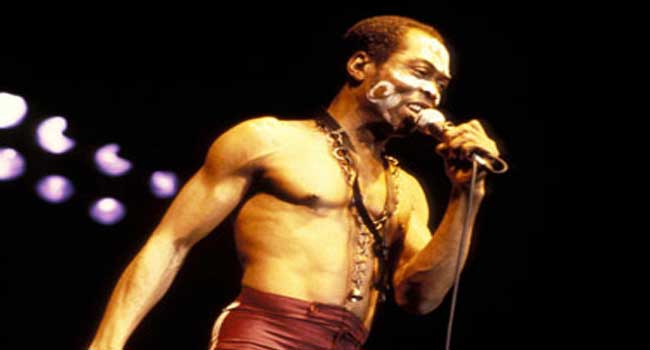 Fela Kuti was known as "the King of Afrobeat". Krizbeatz calls himself "the King of AfroDance", the Nigerian music that has got millions dancing across Africa and the world.
For Fela, as he is still known to fans, music was often a life-threatening fight against corrupt military dictatorships that ruled Nigeria in the 1970s and 1980s.
For the talented Krizbeatz, a child of the capitalist and democratic 1990s, music is a game.
But the self-assured 22-year-old music producer — real name Chris Alvin Sunday — still takes his inspiration from Fela when he's at his mixing desk.
"I studied House Music in South Africa but I'm a Nigerian. Afrobeat is what I grew up listening to. Afrobeat is who I am," he told AFP.
In 2016, Krizbeatz produced the hit "Pana", which has had close to 53 million views on YouTube and been downloaded 10.5 million times on Spotify.
In it, the singer Tekno Miles declares his love for his sweetheart and promises to drive her to the church in a Porsche.
Some feel that 20 years after his death in August 1997, Fela would surely turn in his grave to hear the new generation celebrating designer labels, luxury cars and champagne.
But Krizbeatz says Nigerian music is first and foremost about the beat.
"If you talk about a Nigerian song, you talk about the beat before anything else," he said, grabbing an electric guitar to record a few notes on a loop on his computer.
"You hear it and you just want to dance and be happy, before you can listen to the lyrics."
– 'Butts and boobs' –
Abdul Okwechime organises the week-long "Felabration" festival of Fela's life and work, ending at the weekend and held every year around the musician's birthday.
He is less than impressed with the turn that lyrics today have taken.
"They talk too much about femininity, the sensuality of women," he complained.
"We have lost protest music, music to wake up to, to make you aware of the society, and our society is ill," he said, as he took visitors around Fela's commune, dubbed Kalakuta Republic in Lagos.
The musician lived at the commune — which he once declared an independent republic — with his family, band and 27 wives.
"Now they (modern musicians) talk about butts, they talk about boobs… the sexuality of women, that's what they talk about now," said Okwechime.
Nevertheless, Fela's music and influence is still important.
Even Nigerian megastar Wizkid — the first Afrobeats artist to headline a sold-out show at London's Royal Albert Hall — opened his historic concert there in September with Fela's 1972 epic, "Lady".
Other artists pay tribute in different ways.
At his Borno Winners Empire studio, in the upmarket Lagos suburb of Lekki, Adekunle Gold is wearing traditional dress and recording his second album.
Around him is his band, The 79th Element, named after the atomic number for gold.
The singer says he has created a new sound, mixing musical styles inspired by Nigerian Afropop, Indian harmonies and Ghanaian Highlife, but underlying it with percussion and vocals like Fela in his heydey.
"Fela is no more but he's still within us. He's legendary," said Gold. "If I'm on stage and I don't hear that sound, I feel that something is missing."
– Hopes, dreams and money –
Unlike Fela Kuti, artists no longer risk prison for speaking out, as the internet and social networks have brought greater freedom of expression to Nigeria.
For African music specialist Banning Eyre, from online radio and music magazine Afropop Worldwide, the new Nigerian scene is "hopeful and aspirational".
"Young people in Africa, they know the problems. It's their daily life, that's what they think about all day!" he said.
"They don't want to hear about it when they go out or when they listen to the radio."
But for Eyre, the loss of social and political engagement is in large part due to piracy and the fact that artists cannot make a living from sales of their albums.
"The Nigerian music industry had to create a new economic model because of piracy," he said.
"They get sponsorships for their videos, for their concert events, with private companies… that are often the same companies who have deals with government.
"They want to make money, they want to make a lot of money, so they won't go against the system that feeds them."
Tekno has appeared on Instagram posing in front of the latest Bentley car.
But at an annual October 1 Independence Day concert he struck a different note, as the only performer to launch into a semi-protest song, criticising endless power cuts and corruption.
Dressed in a green velvet suit, his arms covered in tattoos, his song "Rara" got a rousing response from the audience too.
Many in the crowd at the glitzy event, where tickets cost 100,000 naira ($277, 235 euros), sang along to its chorus blasting "plenty greedy man" and calls to make Nigeria a better place — perhaps caught up in the song's catchy beat.
AFP